US lifts most sanctions against Libya
(Agencies)
Updated: 2004-04-24 09:02
The Bush administration lifted most US sanctions against Libya on Friday, opening the way for US investments and commercial activities but still forbidding air travel and some exports to the country, the White House said.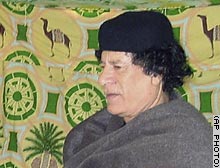 Libyan leader Moammar Gadhafi meets with Austrian leaders in this photo taken Sunday near Tripoli.

The decision came in recognition of the steps Libya has taken during the past two months to renounce terrorism and to voluntarily eliminate its weapons of mass destruction and longer-range missile programs, White House officials said.

"Libya has set a standard that we hope other nations will emulate in rejecting weapons of mass destruction and in working constructively with international organizations to halt the proliferation of the world's most dangerous systems," the White House said in a written statement.

The lifting of the sanctions makes most commercial business, investment and trade with Libya possible but maintains controls on exports to Libya in accordance with the State Department's State Sponsors of Terrorism list. The removal of sanctions means the United States will no longer punish countries that do business with Libya.

Libya already has scheduled loading of 1 million barrels of crude oil to ship to a US company, Abdullah Gheblawi, general manager for international marketing for state-owned National Oil Corp., told Reuters.

In February, the United States dropped its 23-year ban on travel to Libya by US citizens and permitted Americans to spend money in the country. Report: Libya among safest places to do business

The lifting of commercial restrictions will also make Libyan students eligible to study in the United States, subject to school admission.

The statement also said Washington will drop its objection to Libya's attempts to enter the World Trade Organization.

The restraints on US exports to Libya under the State Department's terrorism list prohibit the sale of so-called dual-use goods -- items that could be used for military purposes -- such as ammunition and some goods related to civil aviation.

On Tuesday, State Department spokesman Richard Boucher said that last year, "Libya held to its practice in recent years of curtailing support for international terrorism," but Tripoli continues to "maintain contact with some past terrorist clients."

A State Department official said Friday that the administration is undertaking a review of Libyan involvement in terrorism in an effort to identify what remains for Tripoli to do to get off the terrorism list.

Friday's lifting of sanctions did not include reinstating direct air service between the United States and Libya, nor is the release of frozen Libyan government assets authorized. But it does expand diplomatic relations. The State Department intends to establish a US liaison office in Tripoli, pending congressional notification, the White House said. Libya is expected to send diplomats to the United States shortly.

Senior State Department officials said Friday's move was part of a "carefully calculated series of steps" the United States decided to take in response to Libya's cooperation on weapons of mass destruction.

"We have been justifiably cautious about re-engaging," one official said. "We are proceeding carefully. But we have seen Libya do things nobody expected them to do, and they did them with a rapidity that has left some ... breathless."

The Libyan government is to make payments to the families of victims of the bombing of Pan Am Flight 103 over Lockerbie, Scotland, in 1988. Libya accepted responsibility for the bombing last year.

The lifting of the sanctions does not detract from Libya's obligation to pay $2.7 billion, or $10 million per family, in compensation for the 270 victims.

The United States imposed travel and other restrictions on Libya in the early 1980s and added broad sanctions in 1986 after Libya was blamed for the bombing of a disco in Berlin, Germany, that killed two US servicemen and a Turkish woman, and wounded 229, including 79 Americans.

The sanctions were expanded by the Iran and Libya Sanctions Act of 1996, which cited Libya's failure to comply with UN resolutions, support of terrorism and efforts to acquire weapons of mass destruction.

Senior State Department officials said Friday that before the U.S. fully restores diplomatic relations with Libya, it wants Libya to resolve outstanding legal claims with Germany and other countries who charge Libya was responsible for terrorist attacks on their soil. The United States is also concerned about Libya's human rights record, and wants Tripoli to complete some remaining issues pertaining to its disarmament -- described by one official as "dotting i's and crossing t's."

"This is an important step along the way," this official said, adding that if the Libyans continue to demonstrate the same commitment to addressing these issues that it did to the weapons of mass destruction issue, the US "will respond accordingly."
Today's Top News
Top World News

Hu: China to quadruple GDP by 2020 to $4 trillion




Legislators to amend methods on HK issues




Website loses case over MP3 downloads




Working age population to hit 940m by 2020




22 detained for fake milk products




Lakers edges Rockets 92-88 in OT, leads 3-1