U.N. to aid North Korea after train explosion
(Agencies)
Updated: 2004-04-24 08:58
The government in Pyongyang appealed to the United Nations Friday for help after Thursday's massive and deadly train blast in North Korea, and the United Nations said it is responding.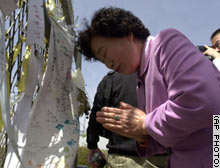 A South Korean woman prays for the victims at the fence on the border with North Korea, near the demilitarized zone of Panmunjom.

U.N. Secretary-General Kofi Annan said that a U.N. inter-agency mission will "mobilize immediate support and assistance to the people in the afflicted area."

The Office for the Coordination of Humanitarian Affairs and the World Health Organization will lead the U.N. mission to Ryongchon, site of the explosion.

The U.S. State Department on Friday said it hasn't received any requests for aid from North Korea, but didn't rule out possible U.S. assistance once needs are identified.

"We have been looking at the situation in North Korea," State Department spokesman Richard Boucher said Friday. "We have been in touch with other governments and international organizations about what they know about the explosion and the situation."

A spark from a live power cable touched off a deadly train explosion Thursday near North Korea's border with China, killing dozens of people and injuring hundreds more, Sweden's ambassador to North Korea said Friday, quoting North Korean officials.

In London, Britain's Foreign Office said its ambassador to North Korea, David Slinn, had been told by government officials that "several hundred" people were killed and thousands were injured.

Officially, the North Korean government has said fewer than 100 were killed and 1,000 to 1,200 were injured.

The blast Thursday afternoon destroyed between 1,800 and 2,000 homes, Swedish Ambassador Paul Beijer said. A dozen public buildings were also damaged, according to figures from a team of Red Cross workers dispatched to the site.

John Sparrow of the International Federation of the Red Cross told CNN there was "good cooperation" with the North Korean government.

"The needs are for shelter material, medicines and food," the U.N. chief in Pyongyang, Masood Hyder said. "As a first step we are going to do a joint assessment, and we've already started to move forward stocks to initiate a response."

Eigil Sorensen, the World Health Organization's representative to North Korea, said the blast had created "a major disaster."

"We have quite considerable amount of medical supplies and equipment in the country, which is part of the WHO support for strengthening health services," Sorensen said, "and what we are doing now is relocating some of the supplies and equipment to the disaster site."

The explosion occurred at a train station that serves as a transportation hub for trade between China and North Korea. It is unclear how much damage might have been done to the facilities.

Beijer said the accident occurred at Ryongchon's rail yard while workers were moving two freight cars carrying explosives slated for canal construction and they came in contact with a live electrical wire.

Beijer also said that "all indications are that it was simply an accident. A very bad one."

That account contradicted earlier reports form South Korea's unification ministry, Jeong Se-Hyun, and South Korea's Yonhap News Agency that the accident was a collision.

South Korean Unification Minister Jeong Se-hyun said although South Korea has not officially communicated with North Korea, Seoul is prepared to offer any aid it can to the reclusive communist country.

Beijer and Slinn said they would travel to the accident site in Ryongchon on Saturday.

Ryongchon is a sparsely populated area northwest of the North Korean capital Pyongyang and about 50 kilometers (31 miles) south of the country's border with China.

The blast happened nine hours after North Korean leader Kim Jong Il passed through the station, en route to Pyongyang after a recent visit to China, Yonhap reported.

Kim only travels by train and all rail traffic would have been shut down in the area for several hours before and after he passed through.(Kim's secret trip)

"Because the blast occurred long after Kim passed we just think it is purely an accident," a source from South Korea's National Intelligence Service told Reuters.

China's embassy in North Korea confirmed two Chinese nationals were killed and 12 injured in the explosion, according to China's state-run Xinhua News Agency.

The force of the explosion destroyed more than 20 Chinese residential houses in the vicinity of the blast, Xinhua reported.

Many of the victims were taken to hospitals in the nearby Chinese city of Dandong and other areas, officials told Yonhap.

CNN's senior Asia correspondent Mike Chinoy said the country's poor health care system and lack of rapid response teams will make treating a high number of casualties very difficult.
Today's Top News
Top World News

Two SARS cases confirmed, one died, virus from lab




China condemns attack on consulate




Train blast in DPRK kills 54, injures 1,249




Forum to promote 'Asian family'




Wu urges US to loosen export controls




Charm school for government officials