Kerry affirms support for abortion rights
(Agencies)
Updated: 2004-04-24 08:53
Democratic presidential candidate John Kerry delivered an unabashed defense of abortion rights on Friday just hours after a top Vatican cardinal said that priests must deny Communion to Catholic politicians who support abortion rights.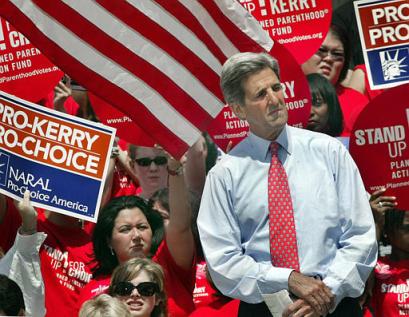 Democratic presidential candidate Sen. John Kerry, D-Mass., waits to speak at a rally in Washington, Friday, April 23, 2004, where he gave a defense of abortion rights just hours after a top Vatican cardinal said that priests must deny Communion to Catholic politicians who support abortion rights. [AP]

Several other Catholic politicians said they, too, had no intention of altering the way they practice their religion or their politics.

With hundreds of Catholic politicians in the United States supporting abortion rights, the trans-Atlantic counterpoint was only the latest sign that the issue promises to be a recurrent one on the U.S. campaign trail this year.

"I believe that in the year 2004 we deserve a president who understands that a stronger America is where women's rights are just that: rights, not political weapons to be used by politicians of this nation," Kerry declared at a rally with leaders of pro-choice groups that are mobilizing in Washington for a big march on Sunday. "We are going to have a change in leadership in this country to protect the right of choice,"

Speaking earlier from Vatican City, Cardinal Francis Arinze stopped short of saying whether it was right for Kerry to receive Communion, but said a Catholic politician who supports abortion rights "is not fit" to receive the Eucharist. U.S. bishops have discretion in deciding who should receive Communion, but the cardinal's comments could put more pressure on them to sanction Catholic politicians whose positions are at odds with church teachings.

Kerry says he personally opposes abortion but supports a woman's right to choose. He did not directly respond to Arinze's comments, but campaign spokesman David Wade said Kerry believes the separation of church and state "helped make religious affiliation a non-issue in American politics."

Bush campaign spokesman Steve Schmidt countered that Kerry's views on abortion were "outside the mainstream" and said the president "supports a culture of life."

Judie Brown, president of the anti-abortion American Life League, said it was perfectly appropriate for voters to consider a candidate's religion and the way he or she practices it in deciding how to vote. She said the group is keeping tabs on 500 Catholic politicians at the state and national level who support abortion rights.

"If you are elected to public office as a Catholic, then your fellow Catholics expect you to be Catholic," she said, calling it "hypocrisy" for Kerry to say he is personally opposed to abortion while supporting wider access to the procedure.

But Frances Kissling, president of Catholics for a Free Choice, USA, said statements such as Arinze's "debase the political campaign" and would only isolate the church from its U.S. members, most of whom she said support abortion rights.

"Every time Catholic church leaders have attacked Catholic politicians for their view on abortion, the Catholic politicians have become more popular and the church has become more marginalized," she said. "It's a very foolish strategy relative to political influence."

She added: "Do they really want to tell Senators (Edward) Kennedy, (Barbara) Mikulski, (Patrick) Leahy and 70 other members of the U.S. Congress that they can't receive Communion? Because they can't just tell this to Senator Kerry."

Sen. Edward Kennedy, the Massachusetts Democrat whose brother was the nation's first Catholic president, stressed that Arinze was speaking for himself, not the pope, and said he did not expect to be denied Communion despite supporting abortion rights.

"I'm a very strong believer in the separation of church and state, as President Kennedy spoke to, and I continue to follow my own beliefs and will continue to serve the people of Massachusetts," he said.

Among American Catholics, 56 percent of non-Hispanic Catholics and 59 percent of Hispanic Catholics oppose making it harder for a woman to get an abortion, according to the Pew Research Center. Support for additional restrictions increases among Catholics who attend church at least once a week, with 50 percent of non-Hispanic Catholics favoring further restrictions and 43 percent of Hispanic Catholics.

Rep. Nick Lampson, D-Texas, was criticized by Republicans recently for keeping track of the votes of Catholic members of Congress and whether they are in keeping with church doctrine. He said the vote tallies grew out of meetings by a group of lawmakers exploring their own beliefs, "knowing many of us want to bring as much of our faith as we can to our action in Congress."

"We are trying to live the teachings of our church and we try to bring that to work," he said. At the same time, he added, Catholic congressional members struggle with adhering to their faith while representing people of many religions.

"I am not here to represent the Catholic church," he said.

Last week, Kerry met privately with Cardinal Theodore McCarrick, the Washington archbishop heading a task force examining whether there should be church sanctions for Catholic politicians who vote and support positions at odds with church teachings.

"The church teaching has always been the same. And it continues to be the same," said McCarrick said Friday in Minneapolis for the 15th American Cardinals Dinner.

Bishop Raymond Burke, the archbishop of St. Louis, has said he would refuse to give Kerry Communion.
Today's Top News
Top World News

Two SARS cases confirmed, one died, virus from lab




China condemns attack on consulate




Train blast in DPRK kills 54, injures 1,249




Forum to promote 'Asian family'




Wu urges US to loosen export controls




Charm school for government officials