US urged to relax control on exports to China
(Xinhua)
Updated: 2004-04-23 14:59
Visiting Chinese Vice Premier Wu Yi on Thursday urged the United States to relax unreasonable control on its exports to China and cautioned against a recent rise in US trade protectionism.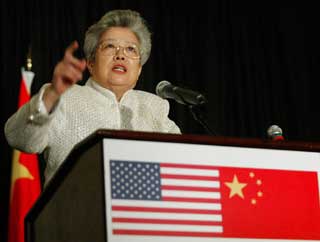 Chinese Vice Premier Wu Yi addresses the U.S. Chamber of Commerce in Washington, April 22, 2004. [Xinhua]

"The United States does have a trade deficit with China and I fully understand the concern of the American side. I believe the key to solving the problem is to expand American export to China rather than restricting American import from China," Wu said while addressing a dinner co-sponsored by the US-China Business Council, the US Chamber of Commerce, and the National Committee on US-China Relations.

Wu said the imbalance in China-US trade could have resulted from many and complicated reasons, such as trade structure and trade diversion, different statistical methodology, and unreasonable control on American export to China.

The vice premier, who led a high-level Chinese delegation to attend the 15th session of the China-US Joint Commission on Commerce and Trade held on Wednesday, said China attaches great importance to the imbalance in China-US trade and has made tremendous efforts to deal with the issue over the years.

She said that America's worldwide exports grew by only 9 percent in the past three years but its exports to China increased by an amazing 76 percent during the same period.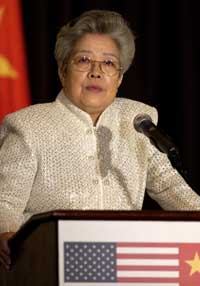 Chinese Vice Premier Wu Yi addresses the U.S. Chamber of Commerce in Washington, April 22, 2004. [Reuters]

"And those numbers are collected from your side," Wu said to about 500 American business people present at the dinner.

"To expand US export to China requires more than the unilateral efforts of China," the senior Chinese official said. "The American side should also show sincerity and take concrete actions to relax unreasonable control on its export to China and remove that biggest obstacle against its export to China."

Wu continued that trade should be two-way and opening be mutual. She expressed concerns that there is a rise in trade protectionism in the United States recently and many Chinese products are treated unfairly.

"Trade protectionism can never inject vitality into economy or provide fundamental solution to the unemployment problem," she stressed.

As for the protection of intellectual property rights (IPR), Wu said, it is needed not only in efforts to carry out international cooperation, but also in efforts to improve market economic system and develop the Chinese economy.

She said the Chinese government is a responsible government and will adopt a clear-cut attitude and take resolute actions on the IPR issue.

The vice premier also clarified Chinese government's position on the exchange rate of the Chinese currency Renminbi, and listed progresses China has made in fulfilling its WTO commitments.
Today's Top News
Top China News

Beijing reports suspected SARS case, China on alert




Train crash kills many, includng 2 Chinese




Japanese vehicle rams Chinese consulate




US urged to relax control on exports to China




Alleged collegiate killer goes on trial




Milk found bad in dead infant case