Britons upset by showing of Diana photos
(Agencies)
Updated: 2004-04-23 09:07
Britain's Princess Diana's brother said Thursday he was "sickened" that the CBS had broadcast photos of the princess as she lay dying after a car accident ¡ª the first time a major media outlet has published pictures of the injured princess.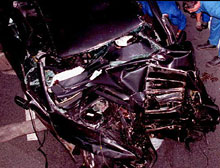 Britain's Princess Diana was killed in a high-speed car wreck in Paris in 1997. [AP]

The British press expressed front-page outrage, while Prime Minister Tony Blair called the broadcast of the grainy black-and-white images "distasteful."

Wednesday's "48 Hours Investigates" briefly showed two pictures taken by paparazzi at the scene of the Aug, 31, 1997, accident in Paris. Diana died hours later. Her companion, Dodi Fayed, and chauffeur Henri Paul also were killed.

The network insisted the pictures ¡ª which showed an unconscious Diana being treated by a doctor as she lay slumped in the back of a car in the Alma road tunnel ¡ª were not graphic or exploitative.

The pictures were shown in context of an interview with the doctor who first treated Diana at the scene, and illustrated his comments about her condition at the time, CBS spokeswoman Sandra Genelius said.
A photo of Diana is left by a mourner on the gates of Kensington Palace, August 31, 2002. [Reuters]

She noted that the broadcast has not been seen outside the United States.

"We stand by the report," she said Thursday.

Britain's muckraking tabloid press, which has refrained from publishing similar photos since Diana's death in 1997, expressed anger at what The Sun called the "horrific pictures." The more restrained broadsheet Guardian said CBS had decided to "plumb new depths of prurience in the Princess Diana industry."

The office of Diana's former husband, Prince Charles, and her two sons, declined to comment. But royal-watchers expressed concern for the princess' sons William, 21 and Harry, 19.

"I think everyone finds it distasteful that there are pictures that can cause distress to the family," Blair told reporters at his monthly news conference.

"It's going to be painful for William and Harry," former Buckingham Palace spokesman Dickie Arbiter told British Broadcasting Corp. radio. "They're young men now. They're going to have to live with it for the rest of their lives."

A brief statement released on behalf of Diana's brother said "Lord Spencer and his family are shocked and sickened by CBS' actions."

Dodi Fayed's father, Mohamed al Fayed, said CBS had behaved in "disgraceful and insensitive" manner.

CBS doesn't care "about the appalling effect of showing images of murder victims," said Fayed, who has long insisted that Diana and his son were murdered. A lengthy French investigation concluded the crash was an accident caused by drunk and speeding driver Paul.

CBS said the pictures were included in a confidential French investigators' file on the accident. No major media outlet had previously run pictures of the injured princess, although several are believed to have been offered for sale.

Fayed also released a letter from his lawyer, Frederic Gaines, asking CBS News President Andrew Heyward not to broadcast the "heart wrenching photographs and descriptions."

"We cannot imagine that CBS News would want to be the first enterprise to breach the collective understanding of the media, based upon good taste, propriety, decency and sympathy," said the letter, dated Wednesday.

British newspapers gave the story prominent coverage Thursday.

"Fury at TV photo of dying Diana," said the Daily Mail.

"US TV shows Diana dying," ran a front-page headline in The Daily Mirror. In an editorial, the newspaper said showing the "vile images" had been "horribly offensive."

Ken Wharfe, a former Diana bodyguard who was interviewed for the CBS program, said the use of the photos was "regrettable."

"I do not think it is good journalism and it is certainly not going to demonstrate any more than we know already," he told Britain's ITV television.
Today's Top News
Top World News

Beijing reports suspected SARS case, China on alert




N.Korea blast kills 54, injures 1,249




Japanese vehicle rams Chinese consulate




US urged to relax control on exports to China




Alleged collegiate killer goes on trial




Milk found bad in dead infant case