Train crash kills many, includng 2 Chinese
(Agencies/Xinhua)
Updated: 2004-04-23 07:33
Two fuel trains collided at a North Korean railroad station near the Chinese border Thursday, igniting a deafening explosion that rained debris in a wide area around, South Korean media reported. One television channel said as many as 3,000 people may have been killed or injured.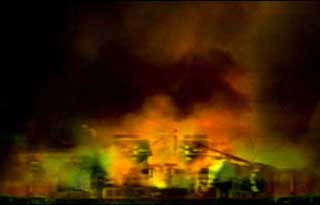 Two fuel trains collided and exploded at a North Korean train station reportedly killing thousands. [YTN]

The Chinese Embassy to the Democratic People's Republic of Korea (DPRK) on Friday confirmed that two Chinese were killed and 12 others injured in a train explosion Thursday in Ryongchon, North Pyong'an province of DPRK.

A picture taken on South Korean channel YTN shows flames and smoke near the Ryongchon train station. Some 3,000 people were killed or injured after two trains carrying fuel collided and exploded at a North Korean railway station, reports said. (YTN)

Among the 12 injured Chinese, two sustained serious injuries and the rest 10 were lightly wounded. Twenty Chinese resident houses have collapsed and three Chinese houses were blown down in the train explosion.

The Chinese embassy to DPRK has set up a special team to deal with the accident and will provide essential assistance to the victims.

The accident was caused by the leaking of ammonium nitrate in one of the trains.So far, the DPRK official media has yet to confirm the train explosion.

Pyongyang declared an emergency in the area, South Korea's Yonhap News Agency reported. The North's official KCNA News Agency did not mention the disaster.

North Korean leader, Kim Jong Il, had quietly passed by rail through the station as he returned from China before dawn some nine hours earlier. It was not clear what caused the crash.

But a South Korean official, quoted on condition of anonymity by South Korea's all-news cable channel, YTN, said it appeared to be an accident.

The collision reportedly took place about 1 pm in Ryongchon, a town 12 miles from China's Northeastern Liaoning Province. One train was carrying oil and the second had liquefied petroleum gas, media reported.

"The area around Ryongchon station has turned into ruins as if it were bombarded," Yonhap quoted witnesses as saying. "Debris from the explosion soared high into the sky and drifted to Sinuiju," a North Korean town on the border with China, it said.

YTN reported that the number killed or injured could reach 3,000. A YTN reporter in Seoul, speaking on condition of anonymity, told AP the network's casualty count came from a South Korean government official, whom he declined to identify.

A South Korean Defense Ministry official confirmed "a large explosion near Ryongchon station," Yonhap reported. "We have yet to find out the cause of the incident, the kind of explosion and how many died," the official said, speaking on condition of anonymity.

Map of North Korea indicating Ryongchon, where a blast at a railway station is said to have left 3,000 people dead or injured.[AFP]

Yang Jong-hwa, a spokeswoman of South Korea's Unification Ministry, said her organization could not immediately confirm the reports; the ministry is in charge of relations with North Korea. The Defense Ministry could not comment.

US State Department spokesman Richard Boucher said the Bush administration had no information on the collision.

The accident apparently resembled a disaster in Iran on February 18, when runaway train cars carrying fuel and chemicals derailed, setting off explosions that destroyed five villages. At least 200 people were killed.

News events within its borders are usually difficult to confirm independently. North Korea's infrastructure is reportedly dilapidated and accident-prone, AP reported.

The trunk line on which Thursday's accident reportedly occurred, the main rail link between China and North Korea, was first laid during the Japanese occupation more than 60 years ago.

YTN reported that the casualties included Chinese living in the North Korean border region, and that Chinese in Dandong - a bustling industrial city on Yalu River - were desperate to learn about their relatives. Chinese and North Korean traders frequently cross the border at Dandong.

Some of the injured were evacuated to hospitals in Dandong, it said.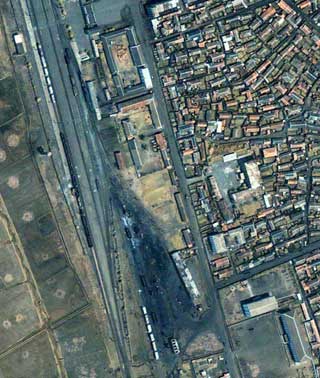 A satellite photo of the North Korean city of Ryongchon, also known as Yongchon, taken May 13, 2003 shows the train line running from the top left of the image to the bottom centre.[Reuters]

An official with the Dandong city government told Reuters by telephone that North Korea has asked China for help in rescue operations.

"They have already asked for help, but we can't give more details. We must report it to the provincial government," the official said.

North Korea's state-run news agency on Thursday confirmed that Kim made an unofficial trip to China on Monday through Wednesday, but carried no comments on the reported explosion.

Kim met with President Hu Jintao and other Chinese leaders and agreed to "push ahead" with a peaceful resolution to the standoff over its nuclear weapons programs, KCNA and central television network reported earlier Thursday.

The broadcast added that Kim said his government "will continue to be patient and flexible and actively participate in the process of six-nation talks and contribute to making progress at the talks."

The last round of six-nation talks - involving China, the two Koreas, the United States, Japan and Russia - ended in February in Beijing without a settlement.
Today's Top News
Top World News

Beijing reports suspected SARS case, China on alert




Train crash kills many, includng 2 Chinese




Japanese vehicle rams Chinese consulate




US urged to stop Taiwan arms sales




Alleged collegiate killer goes on trial




Milk found bad in dead infant case