Clamp down on illicit exit-entry agencies
(China Daily)
Updated: 2004-04-23 00:05
As interest in travel abroad grows, authorities at home have begun investigating agencies that provide overseas services illegally and Thursday they began a crackdown.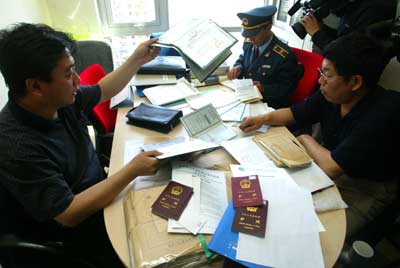 Law enforcement officers examine the operation of an intermediary agency in Beijing Thursday, April 22, 2004. [newsphoto]


The Beijing Municipal Public Security Bureau and eight other departments carried out the sting, aiming to deal a severe blow to illicit agents of overseas services, such as study, work, tours and emigration.

The stint marked the beginning of the first overhaul of the capital's foreign-related agency market.

According to sources with the exit-entry administration under the public security bureau, some illegal agencies engage in unauthorized services without licence or permission.

They cash in on some citizens' desire to travel abroad, make and trade fake documents, and swindle money out of their clients, said sources.

Often, illicit companies cannot deliver on their promises.

More seriously, some audacious agents simply collude with private agencies in other countries and illegally trafficking people out of the country.

These wrongdoings seriously violate the citizens' rights and interests while hindering overseas affairs, a source from the public security bureau said.

Thursday, the team inspected several companies suspected of illegally offering exit services.

"We received a tip-off from a victim, and did a great deal of investigation before we took action," said Sun Yu, an officer with the Municipal Exit and Entry Administration.

An agency called Global-time Travel International was caught running without a licence and a dozen of bags of advertising material were confiscated.

Investigations into other companies are ongoing. The campaign is expected to last until late June.

Authorities say the problem is growing as more Chinese opt to travel abroad -- among them are students, tourists, settlers and workers looking to earn their living in other countries.

Rather than undergo the regular procedures, some of them mistakenly believe the unfounded claims of some crooked attorneys and suffer huge financial losses, said the source.

For instance, according to an official with the Chinese Embassy in Malaysia, about 185,000 Chinese illegally travelled and stayed there in 2002 and 2003.

Some people paid as much as 30,000 yuan (US$3,600) to illicit agencies, only to discover the work environment abroad was not what was described to them.

Another example can be found in South Korea, a place that has seen a growing influx of Chinese students pursuing a higher education in recent years, said Lin Dae-ho, an official in charge of education issues at the Embassy of South Korea in Beijing.

However the South Korean Ministry of Education has yet to work out comprehensive student enrollment regulations with relevant Chinese agencies.

However, a few agencies at home work with private agencies in that country and sometimes make promises they cannot keep.

Citizens ought to be careful, advised Yang Quan, an expert with the Municipal Tourism Administration, and always check licences to make sure agencies are legitimate.
Today's Top News
Top China News

Bush vows to sticks to one-China policy




Suspected SARS case found in Beijing




US urged to stop Taiwan arms sales




Alleged collegiate killer goes on trial




Milk found bad in dead infant case




NPC official solicits HK's views on report