US TV to show photos of Diana at crash scene
(Agnecies)
Updated: 2004-04-22 16:25
Never-before seen photos of Britain's Princess Diana at the scene of the Paris car crash in which she died are to be broadcast on U.S. television on Wednesday night.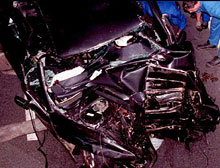 View of the car that transported Diana after it crashed in Paris 31 August 1997. The US television network CBS was to broadcast photographs of Princess Diana in the minutes following the fatal car crash. [AFP/file]

CBS television said it had obtained photos of the critically-injured princess taken after the August 1997 fatal car crash along with information from a secret 4,000-page French report on the accident.

Publication of photos of the last hours of the much-loved princess have hitherto been considered off limits because of the nature of her injuries and out of respect for her two sons, -- princes William and Harry.

CBS said however it would broadcast "photocopies of photos" from the French report on its "48 Hours Investigates" program on Wednesday night as well as making public for the first time some of the details of the police report. CBS did not disclose how it obtained the French report.

Responding to a flurry of media calls, CBS on Wednesday defended its decision to use the pictures. "These photocopies are placed in journalistic context -- an examination of the medical treatment given to Princess Diana just after the crash -- and are in no way graphic or exploitative," it said in a statement.

Diana's sudden death at the age of 37 in a high-speed car crash in Paris has been the subject of fevered speculation over the years, ranging from rumors that she was pregnant at the time to conspiracy theories that she was murdered along with her lover, Dodi al Fayed, because their relationship was embarrassing to Britain's royal family.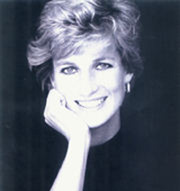 People's much-loved Britain's Princess Diana is shown in an undated Reuters file photo.

A summary of the French inquiry, released in 1999, concluded that the crash was caused by Diana and Dodi's driver, Henri Paul, who was drunk and speeding. Dodi al Fayed and Paul were also killed in the crash.

"48 Hours Investigates" said information in the French report would dispel many of the claims and rumors surrounding her death.

U.S. television last month broke another taboo surrounding Princess Diana by airing never-before-heard audiotapes recorded in the early 1990s that exposed the misery and turmoil of her marriagetain's future king, Prince Charles.

The tapes, broadcast in an NBC documentary, were the basis of Andrew Morton's explosive 1992 book "Diana: Her True Story" that led to Charles and Diana's divorce in 1996.
Today's Top News
Top Life News

China, US reach deals on trade issues




Kim agrees to push forward 6-party talks




Kelly: Take Beijing's resolve seriously




Sino-Russian military ties deepened




Fake milk powder wholesale dealers detained




Greenspan: China may be overheating