Islamic nations open meeting on Iraq, Israel
(Agencies)
Updated: 2004-04-22 11:40
Islamic nations, opening an emergency meeting on Thursday, will urge the U.N. to take a key role in Iraq after Washington transfers authority in June, as security in the Middle East takes a turn for the worse.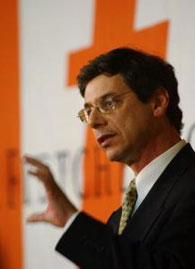 Daniel Ayalon, Israeli ambassador to the U.S., defends his country's killing of Hamas leader Abdel Aziz over the weekend during a speech at the Fletcher School at Tufts University in Medford, Mass., Wednesday, April 21, 2004. [AP]

Foreign ministers and envoys from the 57-member Organization of Islamic Conference (OIC) will also reject a U.S.-backed Israeli plan to withdraw from Palestinian territories, officials from host Malaysia said. The plan has outraged Muslims because it would leave some Israeli settlements on Palestinian land.

The meeting has been called amid mounting anger and alienation in the Islamic world over U.S. policies in the volatile Middle East, even among Washington's friends. Jordan's king abruptly postponed a visit to the White House this week and Egypt's President Hosni Mubarak said Arabs hold a "hatred never equalled" toward America.

The OIC meeting also comes as Washington prepares a resolution that would ask the U.N. Security Council to give its blessing to a new Iraqi interim government, a multinational force and a U.N. role in the country after the planned handover of power to an Iraqi authority.

"Hopefully, there will be a new mandate in Iraq for after June 30th that will give the United Nations a pivotal role," Malaysian Foreign Minister Syed Hamid Albar told reporters as he arrived at the Putrajaya Convention Center in Malaysia's administrative capital.

"Whatever you want to introduce, it must be, at the end of it, the will of the people, and I think the multilateral process must be brought in," he said.

Islamic countries have so far shunned joining the U.S.-led coalition in Iraq, but some are willing to consider Washington's appeal for a multinational force under the United Nations.

U.N. FORCE IN IRAQ

Malaysia and Pakistan, two of the 20 nations represented at the OIC meeting, have said they could contribute to a force meant to protect U.N. staff and facilities after the handover and if the security situation is stable in Iraq.

But the transfer preparations have been eclipsed by bloodletting and hostage-taking this month. Suicide bombers killed at least 68 people, 17 of them children incinerated in minibuses taking them to school, in coordinated strikes on police stations in Iraq's southern city of Basra on Wednesday.

U.S. President Bush, who ordered the invasion of Iraq just over a year ago in part because of fears it was forging links with militant groups, accused Osama bin Laden's al Qaeda of being behind the blasts that shattered months of relative calm in the southern city of Basra.

As violence rages in Iraq, the Israeli-Palestinian conflict has entered a potentially more dangerous phase with the killing of Palestinian militant leaders and last week's backing from Washington for Israel to retain Palestinian territories it won in war.

OIC chair Malaysia brought the one-day meeting forward to April 22 from its planned May 4 date at the request of Palestinian President Yasser Arafat.

"I think we would like to see that the (Israeli-Palestinian) roadmap, the peace process, can be reinitiated," Syed Hamid said. "Some people consider it as rhetorical, but we will be failing in our duty if we don't say anything. It's better to say something rather than be muted about what's happening."

Malaysia became OIC chairman last year, taking the lead in a body reflecting the views of the world's 1.3 billion Muslims but with scant means or institutional framework for concrete action.

Four foreign ministers, from Pakistan, Indonesia, Malaysia and the Palestinian Authority are attending the one-day meeting. About a dozen others are sending junior ministers or other envoys.
Today's Top News
Top World News

North Korea's Kim agrees to push forward 6-party talks




Kelly: Take Beijing's resolve seriously




Sino-Russian military ties deepened




Fake milk powder wholesale dealers detained




China, US reach deals on trade issues




Greenspan: China may be overheating