Israeli troops kill nine in Gaza after reprisals
(Agencies)
Updated: 2004-04-22 09:20
Israeli troops killed nine Palestinians, the youngest 13 years old, in a raid into Gaza Wednesday to stop reprisal rocket attacks for the assassination of a Hamas leader.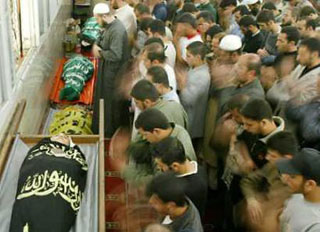 Palestinians pray over the body of four Palestinian killed by Israeli troops, during their funeral at Jabalya refugee camp in Gaza, April 21, 2004. [Reuters]


At least four gunmen died in Israel's deadliest attack for a month in the territory it is planning to abandon, while warning it will always strike back if it sees fit.

Israel's killing of Abdel Aziz al-Rantissi Saturday and the March 22 assassination of the Islamic militant group's spiritual leader Ahmed Yassin have sent tension soaring in Gaza.

A column of tanks backed by helicopter gunships rumbled into the northern Gaza Strip town of Beit Lahiya before dawn, searching for militants firing makeshift rockets at Israeli towns and Jewish settlements.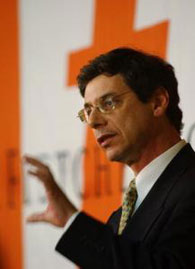 Daniel Ayalon, Israeli ambassador to the U.S., defends his country's killing of Hamas leader Abdel Aziz over the weekend during a speech at the Fletcher School at Tufts University in Medford, Mass., Wednesday, April 21, 2004. [AP]

The nine Palestinians were killed in battles over a dusty wasteland of demolished buildings, medics said, and another 40 people were wounded. The army said troops had come under heavy fire from rifles, grenades and anti-tank rockets.

Among the four gunmen whom Palestinian sources said were killed was a local leader of the Al-Aqsa Martyrs Brigades, a militant faction of Palestinian President Yasser Arafat's Fatah Movement. It vowed to exact revenge.

"Everyone we hit was either armed or planting bombs," an Israeli army spokesman said. One soldier was wounded in the exchanges of fire, a military source said.

The source confirmed that soldiers had shot at least two armed Palestinians who approached them. One teenage stone-thrower crumpled to the ground. Medics said he was in critical condition after being shot in the chest.

Bilal Abu Lehaya told reporters moments earlier he came to "throw stones against the tanks and kick them out of Palestine."

The raid followed a day after four Palestinians were killed and 25 wounded when the Israelis raided the same area.

Vowing "100 retaliations" for Rantissi, Palestinian militants have fired off salvos of rockets and mortars at Israeli towns near Gaza and at Jewish settlements. At least nine Israelis have been lightly hurt.

FURY AMONG PALESTINIANS

Palestinians accused Israel of a massive escalation.

"Israel has completely torn to pieces all peace accords," said Palestinian cabinet member Saeb Erekat. "I am afraid the worst is yet to come."

Palestinians are also furious at U.S. President Bush for giving unprecedented assurances to Israel to support its "disengagement" plan to withdraw from the Gaza Strip, captured in the 1967 Middle East war.

Under Israeli Prime Minister Ariel Sharon's unilateral plan, Israel will abandon Gaza but strengthen its hold on the much larger West Bank where Palestinians also want a state.

In a letter to Bush, Palestinian Prime Minister Ahmed Qurie said he hoped the president would reconsider.

He told Reuters that the cabinet was considering a mass resignation to protest against the U.S. policy shift -- a move that would give greater power to Arafat and be certain to make the United States uneasy.

A top European Union official questioned the bloc's efforts to put a positive spin on the Gaza pullout plan.

"Some of course always see a glass as half full, when others believe it is half empty," said external relations commissioner Chris Patten. "Others find it rather challenging to believe a glass is half full when they can't see very much liquid at all."

Israel has stepped up assassinations in preparation for its planned withdrawal. It aims to cripple Hamas so the movement sworn to its destruction does not fill a power vacuum.
Today's Top News
Top World News

North Korea's Kim agrees to push forward 6-party talks




Kelly: Take Beijing's resolve seriously




Sino-Russian military ties deepened




Fake milk powder wholesale dealers detained




China, US reach deals on trade issues




Greenspan: China may be overheating