18 children among 68 dead in Basra bombs
(Agencies)
Updated: 2004-04-22 08:49
Deadly car bombs ripped through a southern Iraqi city Wednesday and a fierce firefight raged for hours in the Sunni Triangle city of Fallujah.
The five suicide car bombings near police facilities in and around the city of Basra killed at least 68 Iraqis -- including 18 schoolchildren, police said.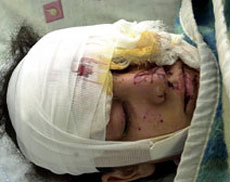 Randa Essam, 15, was wounded in the blasts Wednesday April 21, 2004. [AP]

About 100 people were wounded in the bombings, which occurred after 7 a.m. (11 p.m. Tuesday ET) during the height of rush hour, a senior military source said.

Most of the dead were civilians, killed in three bombings: one near each of three Basra police stations and two at the nearby Regional Police Academy at Az Zubayr, police said.

Ten boys and girls being driven to kindergarten in a minivan and eight girls in another minivan headed to a high school were killed in one of the blasts, according to police official Col. Ali Abdullah.

The dead included at least 16 Iraqi police officers, police said.

Basra, which is a relatively quiet region of Iraq, is under the control of British coalition forces.

British Foreign Minister Jack Straw blamed "insurgents who are trying to disrupt the (June 30) handover of sovereignty to the Iraqi people."

One car exploded in Az Zubayr and then, 30 minutes later as people gathered at the scene, a second suicide car bomb went off in the same location, police officer Hassan Kahlaf said. He said that the first bomber was dressed as a policeman.

In Baghdad, top coalition civilian administrator Paul Bremer said the attacks show that "the terrorists are willing to kill as many people as they can, indiscriminately, and they seem to have killed quite a number of schoolchildren today in addition to policemen."

Crowds threw stones at the coalition forces as they were trying to reach the sites of the blasts, a British military source told CNN.

British Army Capt. Hisham Halawi said calm seemed to have returned to Basra as British forces and Iraqi police began an investigation.

Coalition authorities in southern Iraq issued a statement, denouncing the attack.

"On behalf of the Coalition Provision Authority, we wish to express deep shock and revulsion at the murderous attacks on Iraqi police forces this morning and the loss of so many innocent Iraqi lives," said a statement from Basra governorate coordinator Henry Hogger and regional coordinator Patrick Nixon.

36 insurgents killed in Fallujah fighting

Iraqi insurgents Wednesday opened fire on Marines in the volatile city of Fallujah, resulting in heavy fighting that left 36 insurgents dead, and at least three Marines wounded, according to the U.S. military.

It began around 6:30 a.m. when, Marines said, about 40 to 60 insurgents attacked with small arms fire and rocket-propelled grenades. The Marines said the RPGs were coming so fast and furious that there were "too many to count," according to the military.

"Marines responded to the attacks with overwhelming small arms and mortar fire, as well as close-air support, killing 36 anti-Iraqi forces," the military said in a written statement.

The ferocity of the fighting was captured on video, with Marines unleashing a withering barrage of machine-gun fire. Some Marines fired from rooftops; others were seen running through the streets amid heavy gunfire. The battles lasted more than four hours.

After coming under repeated sniper fire, one Marine was quoted by the military as saying, "The enemy can hide well, but not shoot well."

At one point during the fighting, Marines reportedly heard music lyrics blaring, "God is good, God is great. Holy warriors come out to fight." A nearby mosque also broadcast loud messages, telling people to "rise up and fight," the U.S. military said.

A tenuous cease-fire has held in Fallujah in recent days while negotiators have tried to get insurgents to lay down their arms, and allow humanitarian aid to reach the 200,000 residents, many of whom have abandoned their homes.

It was not immediately clear if Wednesday's fighting would bring a complete end to the cease-fire.

Maj. Gen. Martin Dempsey of the 1st Armored Division said coalition officials have to determine whether "an isolated pocket" of insurgents chose to break the cease-fire.

"If, on the other hand, it turns out to have been a general discrediting of the cease-fire, then of course it won't stand," Dempsey said. "But at this point, the Marines are fighting back when attacked, and they are trying honor the cease-fire."

Coalition spokesman Dan Senor maintained the cease-fire was still holding, but won't for long if the attacks continue.

"We made it clear that time was ticking, there was a lot of progress to be done and a lot of work ahead and if there was not substantial progress quickly, major hostilities would resume," Senor said.

Bremer said remnants of the Saddam Hussein regime are largely responsible for recent attacks in Fallujah, Ramadi and now Basra.

He said the coalition has anticipated that as the June 30 sovereignty handoff nears, insurgents "would increase their attacks on the Iraqi people and on the coalition."

"We have to do everything we can to defeat" the insurgents, Bremer said.

A March 31 attack by insurgents that killed four American contractors, whose bodies were mutilated and dragged through the streets, prompted the coalition to send the Marines to Fallujah, about 35 miles west of Baghdad.

Other developments

The U.S. military will need at least $50 billion to keep troops in Iraq for the next year, and President Bush is not asking for this funding in order to avoid criticism in an election year, according to Sen. Chuck Hagel, R-Nebraska, and Sen. Joseph Biden, the ranking Democrat on the Senate Foreign Relations Committee. Appearing on NBC's "Today," Hagel said the administration needs to "be honest with the Congress, be honest with the American people." White House spokesman Scott McClellan said "that the funding [the Pentagon has] now is more than adequate to meet their needs." McClellan said the military budget is something that is constantly evaluated, however.

A Danish civilian missing in Iraq and presumed detained has been found dead, the Danish government said Wednesday. The Foreign Ministry said the citizen, who was not identified, was found April 12, two days after the Dane went missing. The ministry said it has been "working intensely on the case since first being informed of the possible abduction" April 11.

U.S. Air Force unmanned Predator aircraft armed with Hellfire missiles are being used to battle insurgents in Iraq, according to the U.S. Central Command. The Central Command said it used an armed Predator to kill a number of suspected insurgents April 11 near Balad air base, north of Baghdad. The drone fired a number of Hellfire missiles at people who were attempting to fire mortars at the base, Central Command said.
Today's Top News
Top World News

North Korea's Kim agrees to push forward 6-party talks




Kelly: Take Beijing's resolve seriously




Sino-Russian military ties deepened




Fake milk powder wholesale dealers detained




China, US reach deals on trade issues




Greenspan: China may be overheating