FBI boss sees US-Sino collaboration
By Jiang Zhuqing (China Daily)
Updated: 2004-04-21 22:39
The United States will continue to help Chinese authorities repatriate criminal suspects to China, visiting US Federal Bureau of Investigation Director Robert Mueller said Wednesday in Beijing.
"We've already had a number of successes as the result of such law enforcement co-operation,'' said Mueller, adding the latest example is the repatriation of Yu Zhendong, a criminal suspect accused of embezzling as much as US$500 million in China. He was turned over to Chinese police by US federal agents last Friday.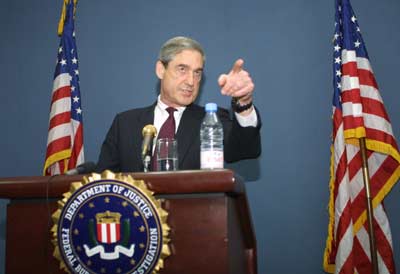 Robert Mueller
Yu's repatriation was viewed as another successful case of Sino-US judicial co-operation, legal experts said.
The two countries have vowed to strengthen such law enforcement collaboration, as well as working to fight terrorism and fight international crime.
China attaches great importance to co-operation on law enforcement issues, believing it will enhance bilateral ties, Chinese State Councillor and Minister of Public Security Zhou Yongkang said during his meeting with Mueller.
"The future of law enforcement is working co-operatively together not only within a particular country but also with our counterparts overseas,'' Mueller said at a news conference.
The FBI director also called for increased international co-operation against terrorism, saying threats against both countries can only be solved "by working together co-operatively... we will be able to overcome those threats and protect the safety of our people.''
"The most important thing for us is the exchange of intelligence, the exchange of information quickly and swiftly to address threats, particularly the threat of terrorism,'' he said.
"In the past, we had those exchanges of intelligence information that have been so necessary to prevent terrorist attack,'' he said.
Reviewing his first visit to China, the FBI director said a strong foundation for co-operation has been established between FBI and public safety officials and the Ministry of State Security after meeting leaders from the two ministries.
Mueller said he also had discussions with Chinese officials about "the necessity of strongly enforcing intellectual property laws.''
"As the technology in China grows, as the capability in China grows, China will have as much of an incentive as the rest of the world to protect intellectual property rights,'' Mueller said.
The FBI now has a small attache office in Beijing that has been instrumental in working on the issue between the two nations, Mueller told reporters.
"My expectation is the co-operation undertaken by the attache office can grow in the future,'' he said. "I can assure you that this will not be my last visit and in the future the FBI will be back to Beijing on a number of occasions.''
Today's Top News
Top China News

DPRK's stance unchanged on 6-party talks




Suspected fake milk producers investigated




FBI boss sees US-Sino collaboration




Sino-Russian military ties deepened




Tranquilizers fed to baby girl by nurse




Demolition dispute in Guangzhou