Israel nuke whistleblower freed from prison
(Agencies)
Updated: 2004-04-21 17:31
Israeli nuclear whistleblower Mordechai Vanunu was freed on Wednesday after serving an 18-year prison term for revealing secrets that exposed Israel as one of the world's top atomic powers.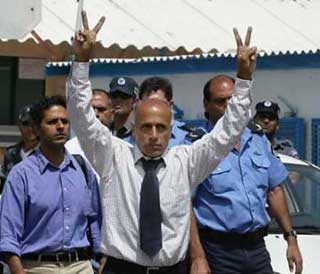 Israeli nuclear whistleblower Mordechai Vanunu flashes a victory sign as he is freed from Shikma jail in Ashkelon after serving an 18-year prison term for revealing secrets that exposed Israel as one of the world's top atomic powers April 21, 2004. [Reuters]

Waving and flashing V-for-victory signs as he walked through the gates of Ashkelon's Shikma prison, Vanunu stood defiantly before a bank of television cameras and proclaimed: "I am proud and happy to do what I did."

The 49-year-old former nuclear technician was greeted by throngs of cheering supporters who hailed him as a "peace hero" while a similar number of counter-demonstrators branded him a traitor.

Vanunu said he had suffered "cruel and barbaric treatment" at the hands of Israel's security services but insisted he had no more state secrets to divulge.

Fearing Vanunu could reveal more classified information, the government put him under close police surveillance and slapped restrictions on his movements, including a one-year ban on travel abroad.

"Israel doesn't need nuclear arms, especially now that all the Middle East is free from nuclear arms... My message today to all the world is open the Dimona reactor for inspections," he said in remarks broadcast live on state television.

Vanunu leaked pictures and details of the top-secret Dimona nuclear reactor where he had worked to Britain's Sunday Times newspaper in 1986, leading independent experts to conclude that Israel had amassed from 100 to 200 nuclear warheads.

His disclosures parted the veil on Israel's official policy of "strategic ambiguity" about its nuclear program and its cryptic pledge that it would not be the first to introduce atomic weapons to the Middle East.

A blonde, female agent of Israel's Mossad spy agency lured Vanunu from London to Rome, where he was abducted and brought home. He was convicted of treason in a closed-door trial and sentenced to 18 years in prison, much of it spent in solitary confinement.

TIGHT RESTRICTIONS

Vanunu said he wanted to leave Israel, where resentment against him runs so deep that his brother has voiced fears for his safety. He has many supporters overseas, where international peace activists have regularly nominated him for the Nobel Peace Prize.

But for now, media reports say Vanunu will live in a luxury apartment complex in the southern Tel Aviv neighborhood of Jaffa close to a church where the Christian convert can attend prayers.

He will be barred from approaching ports and border crossings and is not allowed to talk to foreigners without prior approval for the next six months.

The Defense Ministry said the restrictions were due to "a tangible danger...that Vanunu wishes to divulge state secrets, secrets that he has not yet divulged."

British actress Susannah York, among the anti-nuclear campaigners who came to Israel to celebrate Vanunu's release, said: "It's a gross violation of human rights. Eighteen years ago, he told everything he knew."

Among those waiting to greet him were Nick and Mary Eoloff, an American couple who adopted Vanunu in a failed bid to win him U.S. citizenship. Most of Vanunu's family have disowned him.

Vanunu will be bound by a non-disclosure agreement he signed when he was hired to work at the reactor in the southern desert town of Dimona in 1976, security officials say.

Israel has refused to sign the nuclear non-proliferation treaty, thus keeping the Dimona plant closed to international inspection.

Vanunu worked at Dimona until he was fired in 1985. Shortly afterwards he went abroad and gave photographs of the reactor and specific details of its operations to the Sunday Times.
Today's Top News
Top World News

Leaders support nuclear weapon free peninsula




Tough action to wipe out `killer' milk powder




Forced demolitions blur rights




China opposes Vietnamese islands tour




Blasts rip Iraq police stations, kill 58




Housing prices jump causes overheat worries