Russian Soyuz spacecraft docks with ISS
(Agencies)
Updated: 2004-04-21 17:28
A Russian spacecraft carrying a Russian-American-Dutch crew docked smoothly with the international space station on Wednesday, as US and Russian space officials on the ground squabbled over the conditions for future missions.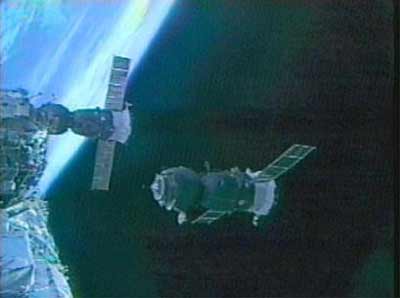 A television camera on the International Space Station shows the Soyuz vehicle with the Expedition 9 crew aboard as it prepares to dock in this view from television April 21, 2004. A Soyuz vehicle which carried the Expedition 8 crew to the station is visible at the left of the frame. [AP Photo]
The Soyuz TMA-4, working on autopilot, docked three minutes ahead of schedule at 9:01 local time, approximately two days after blasting off on a rocket from Russia's Baikonur cosmodrome in Kazakhstan. Carrying three astronauts, it was the third Russian spacecraft to fill in for the US space shuttle, which has been suspended since the Columbia disaster.
The mission of Russian commander Gennady Padalka and American flight engineer Michael Fincke will be to maintain the orbital outpost, whose assembly has been on hold since the February 2003 disaster. Andre Kuipers of the Netherlands is going on a nine-day mission to conduct experiments for the European Space Agency.
Flight engineers monitoring the docking at Russian Mission Control in Korolyov, outside Moscow, broke into applause as a camera affixed to the spacecraft showed the successful docking.
"I would like to thank the Russian space Agency for again providing an excellent launch, an excellent ride and an excellent docking as we continue this great friendship and journey together. We appreciate everything that has been done," Fred Gregory, deputy administrator of NASA, said after the spacecraft had reached the station.
His comments appeared to be an attempt to answer Russia's increasingly frequent complaints that its efforts to keep the space station manned at the expense of its own programs are underappreciated.
Since Columbia disintegrated while returning to Earth on Feb. 1, 2003, the US-manned space program has been on hold, leaving Russia's non-reusable Soyuz capsules as the only means for getting crew to and from the station. Russia's unmanned Progress spaceships also ferry supplies to the ISS.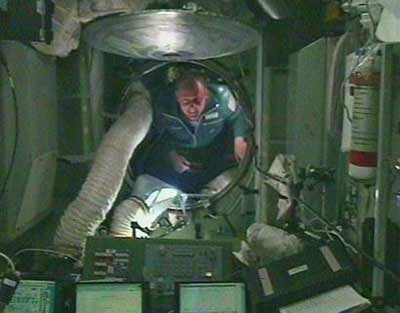 US flight engineer Michael Fincke is seen through an opened hatch as he enters the International Space Station after docking of TMA-4 spacecraft, Wednesday, April 21, 2004 in this image taken from video. [AP]
Russia wants to extend the crews' missions from six months to a year; that way, it could sell more seats on the two Soyuz spacecraft it has funding to build each year to high-paying "space tourists."
Gregory said Wednesday that it would be "premature" to extend the missions beginning with the next expedition, which is scheduled to be launched to the ISS in October, but that NASA had not ruled an extension in the future.
"We would like to delay any further discussions on this until we (US space shuttles) return to flight, which would be scheduled for next March, when we can assure that all the operating systems, life support systems, are operating," Gregory said. We are also discussing the biological activities that need to be accomplished for us to do the longer mission."
The head of the company that builds Russia's Soyuz and Progress spacecraft insisted that Moscow would have its way.
"Our position is rigid: The next crew must make a long flight. I would urge the American colleagues not to drag their feet on solving this issue," said Yuri Semyonov, director of the Energiya company. "We are ready for long flights. Our equipment is ready for that. Our partners must listen to their Russian colleagues."
Padalka and Fincke, who were initially trained to fly on a US shuttle, are to conduct two spacewalks during their 183-day stint on the space station. Kuipers is scheduled to return April 30 with the station's current crew, US astronaut Michael Foale and Russian cosmonaut Alexander Kaleri, who have been in orbit since October.
Today's Top News
Top World News

North Korea's Kim agrees to push forward 6-party talks




Kelly: Take Beijing's resolve seriously




Sino-Russian military ties deepened




Fake milk powder wholesale dealers detained




FBI boss sees US-Sino collaboration




Tranquilizers fed to baby girl by nurse