AIDS scare sparks call for porn film probe
(Agencies)
Updated: 2004-04-21 09:16
HIV infections of two porn stars has prompted local health authorities to seek unprecedented inspections of California's multibillion-dollar adult film industry and press for mandatory condom use during sex scenes, officials said on Tuesday.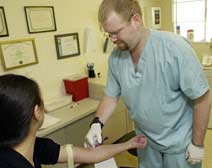 A lab technician takes a routine HIV blood sample at the Adult Industry Medical Healthcare Foundation Friday in Sherman Oaks, California. [AP Photo]
Industry representatives, however, say such a crackdown will not lead to safer sex but could drive away many of the adult film production houses that flourish in Southern California and employ some 6,000 people, including about 1,200 performers.
Industry advocates also argue that much of the area's adult film business would be driven underground, likely thwarting a voluntary HIV testing program that has worked well to stem the spread of the virus that causes AIDS.
Pornographic film producers have generally resisted compulsory condom rules, arguing that a proliferation of prophylactics in their films would take the sizzle out of sex scenes, cooling consumer passion for their product and undermining their bottom line.
"It's market forces," said Mark Kulkis, president of Los Angeles-based Kick Ass Pictures, a production firm whose contract players include Mary Carey, the adult film star who ran for governor in last year's California recall election.
He drew a comparison between the appeal of stunt performances in mainstream action films and the erotica portrayed in porn.
Ruining The Fantasy?
"By putting condoms into it, you're ruining the fantasy," he said. "Nobody wants to see the wires holding up the stunt guy doing a cool stunt. And you don't want to be reminded of your own condom use when you're watching a film."
Kulkis added that he probably would move his operation out of state if California imposed a compulsory condom rule.
"There's a lot of European product without condoms, and given the choice, the consumer will pick no condoms over condom," he said.
Sharon Mitchell, who runs the HIV-screening program for the Adult Industry Medical Healthcare (AIM) Foundation, advocates condom use by porn actors but worries that state regulations requiring it would "be a prescription for chaos."
"If there is a mandatory condom law put in place, these people will scatter and go underground and we will not be able to test them," she said. "If you want to see an influx of disease that may affect the general population, then you put a mandatory condom law into effect. ... I've very concerned about government intervention in this respect."
Last year, Los Angeles County health officials issued a report urging the development of state regulations requiring porn movie performers to use condoms when shooting sex scenes.
That initiative gained new impetus last week after two performers tested positive for HIV, prompting a virtual shutdown of porn film production under a 60-day moratorium while the industry awaits results of tests on 47 other individuals who had sexual contact with the infected actors.
Infection Rate Disputed
County health director Dr. Jonathan Fielding said he was sending a letter on Tuesday to the California Division of Occupational Health and Safety (Cal/OSHA) formally requesting inspection of the adult film industry and possible mandatory safeguards against the spread of AIDS and other sexually transmitted diseases, including compulsory condom use.
He disputed assertions by AIM's Mitchell that the incidence of HIV infection among porn actors was lower than in the general population, adding "there is a significant rate of sexually transmitted diseases in that industry."
Mitchell said only a handful of the 200 or so porn film production companies around Los Angeles require their actors to wear condoms, and just 17 percent of performers overall do so. But all are required to be tested for HIV and other sexually transmitted diseases on a monthly basis.
She said the last major outbreak of AIDS in the industry occurred in 1998, when six people tested positive for HIV. There was one additional case the following year and none since then until last week, she said. The two latest cases involve an actor who is believed to have contracted the virus in Brazil and an actress with whom he had sex.
Cal/OSHA spokeswoman Susan Gard said that before her agency could enforce workplace safety and health regulations in the porn industry, it would have to determine it has jurisdiction over the matter. Industry lawyers insist that Cal/OSHA lacks authority to regulate the industry because porn actors work as independent contractors rather than as employees of producers.
Today's Top News
Top Life News

Beijing reports suspected SARS case, China on alert




Report: N. Korea train crash kills thousands




Bush vows to sticks to one-China policy




US urged to stop Taiwan arms sales




Alleged collegiate killer goes on trial




Milk found bad in dead infant case