McDonald's CEO dies, successor named
(Agencies)
Updated: 2004-04-20 09:03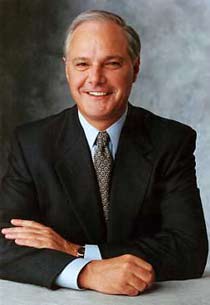 McDonald's Corp. Chairman and Chief Executive Jim Cantalupo died of an apparent heart attack April 19, 2004 the company said. He was 60. The apparent heart attack occurred at the company's annual owner/operator convention in Orlando, Florida. The company could not immediately say who was taking over Cantalupo's responsibilities. Cantalupo is seen in this November 2002 file photo. [Reuters]

McDonald's Corp.Chairman and Chief Executive Jim Cantalupo, credited with recently turning around the iconic American fast-food company, died on Monday of an apparent heart attack, and the company named a successor within hours.

McDonald's appointed Australian Charlie Bell, the 43-year-old chief operating officer who had been seen as heir apparent, to replace Cantalupo as its first non-American CEO.

Cantalupo, 60, died while attending a McDonald's franchisee convention in Orlando, Florida. The death of a chief executive known for his affable personality and high energy shocked restaurant operators attending the meeting, which is held every two years.

"He was such a beloved character," said one McDonald's operator in attendance, who declined to be named. "People were actually crying."

Cantalupo came out of retirement in early 2003 to take the helm of the world's largest restaurant company after former CEO Jack Greenberg resigned under pressure.

Company representatives declined to comment on Cantalupo's health history. He was taken to a local hospital early in the morning and died there, McDonald's spokesman Walt Riker said.

Cantalupo's death comes as McDonald's is faced with defining its role in a growing obesity crisis, which has attracted some lawsuits blaming the company and the fast-food industry. Cantalupo helped develop the company's anti-obesity campaign, a recent push to promote healthier menu choices and exercise.

McDonald's stock pared some early losses after slumping more than 3 percent on concern over who would take the helm of an empire that spans 119 countries and some 30,000 hamburger restaurants, as well the Boston Market and Chipotle chains.

The company also named Andrew McKenna, 74, its presiding director, as nonexecutive chairman. McKenna, chairman and chief executive of printer Schwarz Paper Co., reached board retirement age at 73 but was asked to stay on during the company's turnaround. He joined the board in 1991.

RIGHTING THE SHIP

Many on Wall Street had long speculated that Bell was being groomed to take over McDonald's top post. He, too, has been deeply involved in McDonald's revitalization, with an eye toward marketing, store refurbishment and hands-on operational improvements.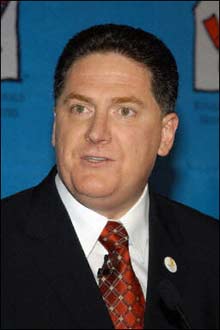 McDonald's named Charlie Bell to take over as president and chief executive of the fast-food giant following the death of Jim Cantalupo earlier in the day. [Agencies]

"Charlie is a great operator," said JMP Securities analyst Dean Haskell, who rates McDonald's shares "market perform." "He has been with the business from the ground up. He obviously will continue the policies that Jim Cantalupo has begun in turning the company around. We're glad the board moved decisively."

Cantalupo, a nearly 30-year company veteran, acted quickly upon his return to focus on improved food and service, leading to a revitalization of McDonald's U.S. market, its largest. Sales showed steady improvement in recent months after flagging for a sustained period.

In February, sales growth at U.S. restaurants that had been open more than a year rose to its highest level in 30 years. In 2003, McDonald's reported profit of $1.47 billion on total revenue of $17.14 billion.

A former vice chairman and president of the company, Cantalupo began his career with McDonald's in 1974 as controller and took over international operations in 1987, when the company operated in only 46 countries.

He returned to the company during hard times. In addition to the growing obesity crisis, he inherited falling profits in a saturated domestic hamburger market, the impact of outbreaks of mad cow disease in key markets such as Europe and Japan, and waning service, amid reports of dirty restaurants and slowing transaction times.

In little over a year, Cantalupo helped to standardize service in the company's 13,000 U.S. stores, expand the menu with entree-sized salads and all-white-meat Chicken McNuggets, and launch McDonald's first global marketing effort.

"Mr. Cantalupo re-energized McDonald's," wrote Smith Barney analyst Mark Kalinowski in a research note on Monday.

Analysts said Bell moves into the top post at a time when sales comparisons get more difficult, as McDonald's goes up against many of Cantalupo's successful initiatives.

"He's coming on board when the U.S. is going to be lapping some very strong year-ago comparisons," said Harris Nesbitt Gerard analyst Matthew DiFrisco. "I think he knows what's on the forefront," he said, adding that stabilizing volatile overseas markets such as Europe will also be important in the near term.

Cantalupo's death follows the untimely passing of others in the fast-food industry. In January 2002, Dave Thomas, founder of No. 3 U.S. hamburger chain Wendy's International Inc., died of complications from liver cancer at the age of 69. In December 1999, Wendy's CEO Gordon Teter died of a heart attack at age 56.

McDonald's shares fell 71 cents to close at $26.75 on the New York Stock Exchange on Monday. They sank as low as $26.50 earlier in the session.

Since the beginning of 2004, McDonald's shares are up 10.6 percent. In March 2003, the shares had fallen to a 10-year low of $12.45.
Today's Top News
Top World News

WHO rules out Taiwan as member




Wu makes high stakes US trade mission




Fake milk powders kill babies




Subsidy to lift income of grain growers




Doctor: Sex harmful to middle schoolers




Soccer legend Maradona in critical condition