Bush names Negroponte as Iraq ambassador
(Agencies)
Updated: 2004-04-20 07:51
U.S. President Bush on Monday named John Negroponte, the top U.S. diplomat at the United Nations, as the first American ambassador to postwar Iraq and asserted that Iraq "will be free and democratic and peaceful."
Bush announced the nomination in an Oval Office ceremony.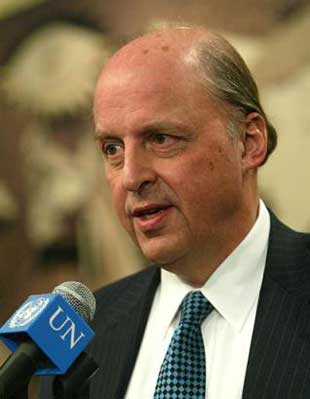 U.S. ambassador to the United Nations John Negroponte speaks to reporters after he briefed Security Council members at a meeting on the situation in Iraq at UN Headquarters in New York Friday, April 16, 2004. President Bush plans to name Negroponte as the U.S. ambassador to Iraq, an administration official said Monday, April 19, 2004. [AP]

At the United Nations, Negroponte, 64, was instrumental in winning unanimous approval of a Security Council resolution that demanded that Iraqi leader Saddam Hussein comply with U.N. mandates to disarm.

While the resolution helped the Bush administration make its case for invading Iraq, the Security Council eventually refused to endorse Saddam's overthrow, opting instead to extend U.N. weapons searches.

"John Negroponte is a man of enormous experience and skill" and "has done a really good job of speaking for the United States to the world about our intentions to spread freedom and peace," said Bush.

Regarding Negroponte's new post, the president said there is "no doubt in my mind he can handle it, no doubt in my mind he will do a very good job, and there's no doubt in my mind that Iraq will be free and democratic and peaceful."

Senate Foreign Relations Committee Chairman Dick Lugar, R-Ind., supports the nomination and said he will work with Secretary of State Colin Powell to provide a prompt public hearing for Negroponte.

If confirmed by the Senate, Negroponte would head an embassy in Baghdad that will be temporarily housed in a palace that belonged to Saddam. When up and running, the embassy will be the largest in the world. Negroponte went from the White House to the State Department to discuss plans for the embassy, said his spokesman, Richard Grennell.

Negroponte's selection was widely praised.

"I respect him as a professional and he's quite an experienced diplomat," said Russia's acting U.N. ambassador, Gennady Gatilov. "So I hope that this appointment will serve the interest of the Iraqi population."

Germany's U.N. ambassador, Gunter Pleuger, the current Security Council president, said, "I think he is certainly the right person for this very difficult and also dangerous job."

Algeria's U.N. Ambassador Abdallah Baali, the only Arab member of the Security Council, said Negroponte "has a great quality, which is to listen to other people, and I think that will help him a lot in his very, very difficult mission in Iraq."

Negroponte would become ambassador when the United States hands over political power to an interim Iraqi government by a June 30 deadline. The current top U.S. official in Iraq, L. Paul Bremer, is expected to leave the country once the political transition is completed.

Thousands of U.S. troops will remain in the country even after the political transition is complete.

As U.N. ambassador, Negroponte also helped win approval of a resolution to expand the mandate of an international security force in Afghanistan after the overthrow of the Taliban government.

Before that, he worked in private business.

Negroponte's nomination for the U.N. post was confirmed by the Senate in September 2001, but that confirmation did not come easily.

It was delayed a half-year mostly because of criticism of his record as the U.S. ambassador to Honduras from 1981 to 1985. In Honduras, Negroponte played a prominent role in assisting the Contras in Nicaragua in their war with the left-wing Sandinista government, which was aligned with Cuba and the Soviet Union.

For weeks before his Senate Foreign Relations Committee hearing, Negroponte was questioned by staff members on whether he had acquiesced to human rights abuses by a Honduran death squad funded and partly trained by the Central Intelligence Agency.

Negroponte testified that he did not believe the abuses were part of a deliberate Honduran government policy. "To this day," he said, "I do not believe that death squads were operating in Honduras."

"He's a diplomat's diplomat," said Bernard Aronson, the State Department's top Latin America official in the first Bush administration, when Negroponte was ambassador to Mexico.

"He's trusted, I think, by the administration. He's certainly very close to the secretary of state and he's unflappable," Aronson said in a recent interview.
Today's Top News
Top World News

Milk powders kill babies, PM orders investigation




WHO rules out Taiwan as member




Wu makes high stakes US trade mission




Subsidy to lift income of grain growers




Doctor: Sex harmful to middle schoolers




Soccer legend Maradona in critical condition