Paper: Beckham confessed to affair
(Agencies)
Updated: 2004-04-19 09:43
British tabloid press frenzy over the private life of England soccer captain David Beckham raged on with a report on Sunday that he had confessed to his pop star wife Victoria that he did have an affair.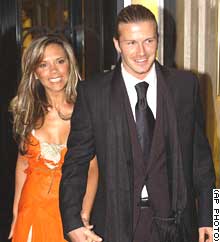 The couple posed for photographers outside Claridges hotel on Monday night.

Beckham has publicly dismissed as ludicrous claims that he had sex with and sent raunchy text messages to his former personal assistant Rebecca Loos, 26-year-old daughter of a Dutch diplomat, when the allegations were first made two weeks ago.

The Beckhams called in lawyers after a second woman, 29-year-old Malaysian-born Sarah Marbeck, said she had had an affair with Beckham from July 2001, two years after his marriage to the former Spice Girl.

However Loos, who was paid a six-figure sum for her story, appeared in a television interview on Thursday to insist she was telling the truth and could prove she had a fling with the 28-year-old Real Madrid midfielder.

Despite a public display of unity by the Beckhams since the claims emerged, the News of the World -- the paper which first reported the allegations -- said on Sunday Beckham had admitted an affair with Loos during a phone call to his wife on April 8.

"Yes. I did have the affair and I did send Rebecca the text messages," the paper, which quoted friends, said Beckham had told his wife.

Beckham's spokesman was not available for comment.

Speculation about the marriage began when Beckham moved to Real Madrid from Manchester United last summer. Victoria Beckham refused to relocate to Spain and instead stayed in Britain with their two children.

For two weeks the allegations have dominated the front pages of Britain's tabloid papers, which afford the Beckhams the same sort of coverage as the nation's royal family.

Another paper, The People, on Sunday printed claims from a third woman, vicar's daughter Celina Laurie, who said she had a one-night fling with Beckham after a Manchester United game in Denmark in August 2002.

Victoria, who received a ¡ê1 million ($1.8 million) pink diamond ring from her husband for her 30th birthday on Saturday, is now considering a trial separation, the News of the World said.

Friends told the paper she had been deeply upset by Loos' claims in the TV interview that Beckham had fed her strawberries in a Madrid hotel room and made her feel "like a million dollars."
Today's Top News
Top Life News

Renminbi interest rate to remain unchanged




Rocket blasts small satellites into space




Experts optimistic about grain output




Chongqing gas leak controlled; nine dead




Spain pulls from Iraq, 10 US troops killed




Eager Guangzhou eyes 2010 Asian Games