Quantity threatening quality in higher education
(Beijing Today)
Updated: 2004-04-19 09:20
'Without income, how can they publish their articles? Without projects how can they get the money?¡¯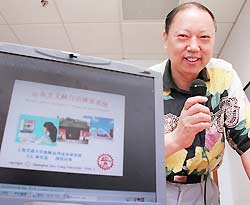 Wang Yongcheng, professor from Shanghai Jiaotong University [file photo]

For Xue Qingshui, a doctoral student at Shanghai Jiaotong University, switching supervisors after over one year was a major disruption to his doctoral studies. "But we still insisted on making the move," Xue told Beijing Today.

Last July, Xue and another eight doctoral students went to the unusual lengths of transferring to new supervisors. Till now, their former supervisor Wang Yongcheng, professor with the university's Information College has not filled in the supervisor transfer application form, as requested by the university.

"Now under the guidance of new supervisors, we are able to concentrate on academic study," said Su Guiyang, another of the nine students.

A Xinhua report on March 29 said that the issue was not simply a one-off conflict between students and teachers, but "highlighted the problems of the system of educating doctoral students in China."

How many is too many?

According to the Xinhua report, one reason the nine students changed their supervisor was that being responsible for around 40 students, Wang was unable to give them individual academic guidance.

Li Hong (a pseudonym), who completed her doctorate in Arts at a renowned university in Beijing last year, recalls that in 1999, she, along with more than 100 students enrolled in the graduate college, 70 more than scheduled. "In my university the income of supervisors of doctoral students largely depends on the number of students he or she has," she said.

Wang Yongcheng says the number of students a supervisor has depends both on the area of research he is involved in as well as the ability of the supervisor. "Supervisors of doctoral students should have strategic knowledge, that is, the ability to provide guidance at a macro level rather than the detailed guidance," he told Beijing Today Monday.

Zhang Wenxian, professor at Fudan University's Management College and founder of the Shanghai Enterprise Efficiency Institute agrees that it should not be assumed that there is always a negative relationship between quality and quantity. "I have more than ten doctoral studets but I ask them to not only learn from me but also from other students, through discussing ideas and exchanging opinions."

But Lu Guosun, president of the university's Foreign Languages Department, strongly opposes suervisors having many doctoral students, arguing that quantity is being overvalued at the expense of quality. "Under current conditions in China, quality is being ignored," he said. "It seems the academic standard that a doctoral supervisor is judged by the number of students he or she has." Lu says with only two doctoral students, his ranking in the university is not as high as some of his colleagues with more students.

Zhu Shida, a research fellow of the Institute of American Studies of the Chinese Academy of Social Sciences, believes doctoral supervisors should limit the number of candidates he accepts. "It is hard to imagine how a supervisor could have the energy and time to take care of seven or more," he said. "The qualification to be a doctoral supervisor should be granted through a more careful process of selection. The best minds in all endeavors should be the supervisors who will train the next generation of China's best minds."

Academia vs Commerce

The Xinhua report says the nine students formerly worked at National High-tech Application, a company registered in the name of Wang's wife, Chen Zushen, and based in Wang's office. "Wang had not given us any academic guidance, except asking us to carry projects he obtained either as state research projects or enterprise new product development," an unnamed student was quoted as saying in the report.

"Doctoral students, especially those in science and engineering, frequently call their supervisors 'boss,'" a student at a research institute in Beijing, told Beijing Today, requesting anonymity. "It is because supervisors are more like heads of construction teams, always with projects they are asking us to undertake."

He said during his four years' doctoral study, his supervisor has never held any academic discussion with him. "The only discussions that we have are directly focused the projects that he has asked me to work on," he said. "I am not a young man and I have already accumulated some experience. The reason for me to study for a doctoral degree is to gain more academic knowledge. But instead of learning, I only work and work."

Huang Fei (a pseudonym), a doctoral student at a renowned university, says he does not oppose working on projects for his supervisor, so long as the project has research value. "In fact for all the projects that a supervisor might have, no matter whether they are government sponsored or commercial, they are only projects. So it becomes a routine for us to carry out a project, complete it and then begin another similar one," he said

Huang adds that what their supervisors care about is whether these projects could be finished on time, allowing them to be paid for the completed project and publish papers about them.

Ye Jianhua, a professor of East China Normal University, says there are two types of projects assigned to doctoral students by their supervisors: those that the supervisors obtain from national projects funded by the government and those that come from enterprises.

He points out that the former are an important means of improving students¡¯ research abilities, while the later is helpful in strengthening their abilities to combine the theory with practices.

In light of his own experience, Zhang Wenxian considers there is nothing untoward about his over 10 doctorate students working in his institute on enterprise-targeted projects. "For the students it is to their advantage to undertake these projects," he said.

While these projects can bring in 200,000 to 300,000 yuan, they are "all consistent with the areas we are studying academically," added.

"There is no reason for us to ignore the knowledge of application. Otherwise knowledge from books will only remain intact," said. "The knowledge by itself cannot turned into productivity, unless once it is put into practice."

However, Zhang points out that it is important to let the doctorate students know the positive effects of practicing their knowledge and making decisions as to whether to conduct research or not. "That is, the relationship between supervisors and their doctoral students should be as that between fathers and sons, rather than bosses and employees," he said.

Lu Guosun, on the other hand, insists the idea that academia should be combined with industry is wrong. "Academic pursuit must be purely academic, that is, people engaging in academic study must be devoted to it," he said. "Conducting practices has become too much influenced by commerce. As a result, research projects carried out by different doctoral supervisors in different universities are no different, in spite of different 'packaging.'"

A matter of money

The president of a graduate college of a renowned university, who requested anonymity, told Beijing Today, "The investment for a national science project totals 1 million yuan over four years. But the project is usully undertaken by three or four universities with around five supervisors, each usually with two students," he explained. "For an ordinary national project, the investment is usually 200,000 yuan for three years. Those with state projects are much better than the nearly 70 percent of doctoral supervisors who have no national projects.

Wang Yongcheng told Xinhua about the difficulty of finding projects in order to obtain money to fund further projects. "For one of my projects, one third of the total 300,000 yuan funding was not allocated by the government till three years later," he said.

Wang says the monthly allowance for a doctoral student in his university is 290 yuan. "But when they come to publish their articles, they need to pay more than 10 yuan per page for the designing, resulting in total fee that can reach as high as several thousand yuan for a complete article," he said. "Without income, how can they publish their articles? Without projects, how can they get the money?"

Mei Renyi, a professor at Beijing University of International Studies and doctoral supervisor in the study of Sino-American relations, told Beijing Today that the government has not allocated him any money for an individual project he and his student are working on. "Every year the government allocates 1,000 yuan as the fee to educate a doctoral student, of that, 300 yuan goes to the supervisor and 700 yuan to the students. This amount can hardly cover the expnse of buying books, so how can a supervisor concentrate on academic research?"

Self discipline

According to Wang Yajie, deputy director general of the Office of the Academic Degrees Committee of the State Council, China has achieved tremendous success in its post-graduate education in the last two decades. "But I cannot say that there are not any problems," he said. "However these problems can be solved through self-discipline on part of the supervisors. That is, the supervisors must understand their responsibility is to educate qualified doctoral candidates through both academic and mental guidance."

He says there should be nothing wrong with doctoral supervisors having many students, as long as they have the ability to guide their students to write theses that can withstand rigorous academic challenges. "Under certain circumstances, the students can learn from others who also study after the same supervisor, and then develop their team-spirit," he added.

Wang says that finding means to obtain funds to carry out projects is another responsibility that supervisors should undertake. "It is because the possibility of securing funded projects depends largely on the reputation of the supervisors, and once completed, these projects bring credit not only to the supervisors and their students, but also to the country. However the application of these projects in society is limited to a specific area. For the enterprise-targeted ones, they can have tangible benefits, which cannot be ignored," he said.

"But all the suervisors must bear in mind that self-discipline is the starting point for them to do anything, and a basic requirement to be a supervisor," Wang emphasized.
Today's Top News
Top Life News

NPC decision favours gradual electoral changes in HK




Institute isolated for suspected lab infection




Zeng: Hegemony never on nation's agenda




Testimony: Japanese war chemicals did harm




300 infected with measles in Sichuan




Lottery row sends man from heaven to hell