Cui Yongyuan and his battle with "Cell Phone"
(Beijing Weekend)
Updated: 2004-04-19 08:44
The buzz at the box office in early 2004 was Feng Xiaogang's "Cell Phone", a movie that showed all too clearly the dangers of mobile phone technology when trying to maintain a relationship.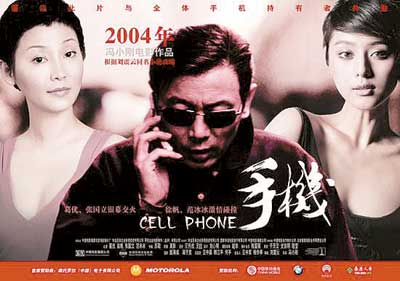 A poster of the movie "Cell Phone," which was said to follow the life of a famous CCTV talk show host Cui Yongyuan and his successor, He Jing. [file photo]

Most moviegoers left the theater whispering to their date - isn't that the story of Cui Yongyuan?

To recap the film: it follows the life of a famous TV talk show host (Yan Shouyi), and his love affair. Yan's marriage is destroyed when his affair with a young journalist is exposed who ends up trapping and humiliating Yan in a complex mesh of text messages and mobile phone conversations. Yan is succeeded as host of his TV program by another woman, also involved in the mobile phone mishap.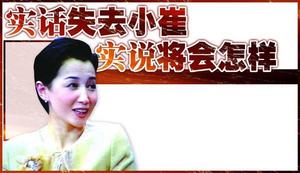 He Jing [file photo]


Cui Yongyuan, a 40+ ex-host of the famous talk show Shi Hua Shi Shuo, retired just two years ago, to be replaced by a youthful He Jing. Credited for hosting the most popular talk show in Chinese history, his retirement was surrounded by mystery. And unbeknownst to the average movie-goer, Cui experienced the same humiliation in love as "Cell Phone's" main character.

In direct response to the media's probing questions following the movie release, Cui was quick to show his animosity towards director Feng Xiaogang. He claimed that Feng approached him years ago for movie ideas, and Cui willingly shared with him his retirement story, but had no intention to have what has been presumed to be his private life, made public in a film.

Since "Cell Phone's" debut, Cui has been on the run from the paparazzi. One persistent reporter shouted: "can you dare say you've been faithful to your wife?" to which Cui lost his temper in front of numerous flashing cameras and TV film crews. (Sina.com.cn)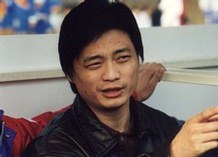 Cui Yongyuan [file photo]

Cui is not the only one who sees Feng's film as a breach of trust and/or unjust. Zhang Weiping (producer of Zhang Yimou's films) has also complained in the past that "Feng likes to shoot film that tease others" and that the artistic sense is lacking. In Cui's eyes, Feng is "full himself and just likes amusing himself".

In response to Cui's cutting criticism, Feng simply replied, "Now people have the liberty of free speech". (Sina.com.cn)

Unfortunately for Cui, and fortunately for Feng, the controversy involving the likeness of the film's plot to Cui's life has meant that "Cell Phone" has been a massive success at the box office.

Cui will have to ride out the popularity of the film before the paparazzi stop nipping at his heels.
Today's Top News
Top Life News

Renminbi interest rate to remain unchanged




Rocket blasts small satellites into space




Experts optimistic about grain output




Chongqing gas leak controlled; nine dead




Hamas pledges revenge, names secret leader




Eager Guangzhou eyes 2010 Asian Games