Sources: New Hamas leader's identity a secret
(Agencies)
Updated: 2004-04-19 08:41
A successor to slain Hamas leader Abdel Aziz Rantisi has been appointed, but his name is being kept secret for his protection, sources in the group's military wing said Sunday.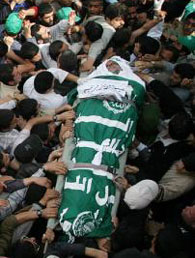 Palestinians reach to touch the body of the late Hamas leader Dr. Abdel Aziz Rantisi as he is carried through the streets during his funeral in Gaza City, April 18. [AP]

Rantisi was buried in a cemetery near his home in Gaza City on Sunday, a day after becoming the second Hamas leader in a month to be killed in a targeted Israeli airstrike.

Tens of thousands of Hamas supporters chanted loudly as they crowded the streets of Gaza City on Sunday for a funeral procession. Loudspeakers urged residents to participate in the funeral.

Rantisi's body, wrapped in cloth and draped with a green Hamas flag, was carried on a stretcher from the hospital where he died to his home, then on to a mosque.

Mourners wept and threw flowers, and some stroked his face, which was left uncovered.

An Israeli helicopter launched the strike on Rantisi's car Saturday, killing him and two bodyguards.

Rantisi, 56, was appointed the leader of Hamas in Gaza last month after Israel killed the group's founder and spiritual leader, Sheikh Ahmed Yassin, in a March 22 missile strike.

Rantisi's killing drew international condemnation while Israel defended the strike as a protective move.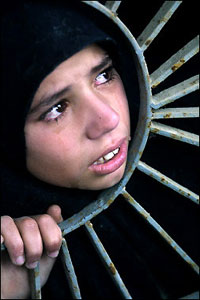 A Palestinian girl cries during the funeral procession of the leader of the radical Islamic movement Hamas Abdelaziz Rantissi in Gaza City. [AFP]

Schools and shops were closed Sunday as a three-day mourning period began.

On its Web site, Hamas vowed "100 retaliations" for Rantisi's death.

Hamas is a Palestinian Islamic fundamentalist organization whose military wing has admitted responsibility for terrorist attacks against Israeli civilians. The United States and Israel consider it a terrorist group.

Saturday's attack on Rantisi created a loud explosion in Gaza City, and half of the city lost electricity. Ten other people were injured, Palestinian medical sources said.

In an interview with CNN, one of Rantisi's sons, Mohammed, said he had expected his father's death.

"In jihad ... there are usually two outcomes, either martyrdom or victory," Mohammed Rantisi said. "In this case, he got martyrdom.

"This was not unexpected from the Jews, because they have been trying for a while to carry out" such a killing, he said. "They target all the Palestinians, so of course they would single out our leaders. ... The leaders are always targets of such operations."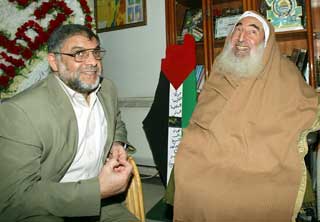 A file photo of December 16, 2003 shows Hamas leader Sheikh Ahmed Yassin (R) and Senior Hamas official Abdel-Aziz al-Rantissi in Gaza. Abdel-Aziz al-Rantissi, named as Hamas chief for the Gaza Stripon March 23, 2004. [Reuters]


Palestinian Authority President Yasser Arafat said the killing demonstrated the need for Palestinians to defend themselves against Israel. He condemned the killing and called for international protection for Palestinians.

In Jerusalem, at the start of his weekly Cabinet meeting, Israeli Prime Minister Ariel Sharon repeated that his government would relentlessly fight terrorism.

"I have made it clear more than once that the policy that Israel acts by is on the one hand an effort to start a political process ... and on the other hand fight the terror organizations, the terrorists and anyone who targets Israeli citizens," Sharon said.

"As part of this policy this operation was carried out yesterday," he said. "I want to stress again that this policy of making an effort to advance the political process on the one hand and on the other hand to target the terror organizations and their leaders will continue."

Dore Gold, one of Sharon's advisers, said, "For the last decade, Hamas and Mr. Rantisi have been behind a spate of suicide bombings in the heart of Israeli cities. ...Therefore Israel adopts these self-defense operations in order to protect our civilians."

The White House issued a statement saying, "As we have repeatedly made clear, Israel has the right to defend itself from terrorist attacks."

"The United States is gravely concerned for regional peace and stability," the White House statement said. "The United States strongly urges Israel to consider carefully the consequences of its actions, and we again urge all parties to exercise maximum restraint at this time."

Sharon also said he was pleased with a military operation in Gaza in which a Palestinian the Israelis said was armed was killed.

"I would like to congratulate the security forces on the successful operation that they carried out last night," Sharon said.

Israeli soldiers who shot and killed the Palestinian found a Kalashnikov rifle and ammunition clips near the body, the Israel Defense Forces said Sunday.

The IDF said the shooting occurred at the Kissufim Road outpost, at the crossing point between Gaza and Israel. There was no response available from the Palestinians.
Today's Top News
Top World News

Renminbi interest rate to remain unchanged




Rocket blasts small satellites into space




Experts optimistic about grain output




Chongqing gas leak controlled; nine dead




Spain pulls from Iraq, 10 US troops killed




Eager Guangzhou eyes 2010 Asian Games