Hamas leader killed in Israeli strike
(Agencies)
Updated: 2004-04-18 08:36
Israel assassinated Hamas leader Abdel Aziz Rantisi in a missile strike on his car Saturday, part of its declared campaign to wipe out the Islamic militant group's leadership ahead of a planned Israeli withdrawal from the Gaza Strip. Two of Rantisi's bodyguards were also killed.
The White House declined to criticize the assassination, saying instead that Israel has the right to defend itself from terrorist attacks and urging Palestinians to use restraint in responding.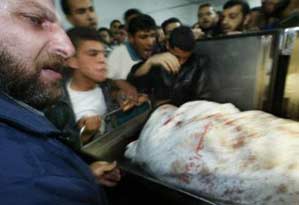 Palestinians gather around the body of Hamas leader in Gaza Dr. Abdel Aziz Rantisi at the morgue at Shifa Hospital following an Israeli missle strike in Gaza City, Saturday, April 17, 2004. [AP]
Fearing retaliatory attacks from Palestinians that would escalate already high Mideast tensions, White House press secretary Scott McClellan said in the wake of the killing of Abdel Aziz Rantisi, the Hamas leader in Gaza, that "the United States is gravely concerned for regional peace and stability."
"The United States strongly urges Israel to consider carefully the consequences of its actions," he said. "And we again urge all parties to exercise maximum restraint at this time."
Thousands of angry Palestinians marched through the streets of Gaza City, carrying pieces of the charred car and shouting, "revenge, revenge." One man stuck his hands into the car, pulled them out covered with blood and waved them in the air.
"This blood will not be wasted," said Ismail Haniyeh, a Hamas leader. "We are not going to give up."
The attack came less than a month after Israel killed Hamas founder Sheik Ahmed Yassin in an air strike outside a Gaza City mosque. Israel has said it would strike at Hamas leaders whenever possible, and Rantisi ¡ª named Hamas chief in Gaza after Yassin's killing ¡ª was near the top of the list.
Israeli security forces went on high alert, fearing reprisal bombings.
Palestinian leader Yasser Arafat condemned the killing as a "brutal assassination," while Israel's vice premier, Ehud Olmert, warned there would be more such attacks.
Earlier Saturday, a Palestinian suicide bomber blew himself up at an industrial park between Israel and Gaza, killing an Israeli border policeman. Israeli officials said there were no connection between the bombing and the killing of Rantisi.
Rantisi's car was hit by two missiles Saturday evening, about a block from his house in the Sheik Radwan neighborhood of Gaza City. After the explosions, Israeli helicopters were heard in the area.
"I heard the sound of the explosion. It was a small one followed after less than two seconds by another one," said Rawhi Ghazal, 35, who owns a nearby shop.
Rantisi ran about 15 yards from the car, collapsed and lost consciousness, Ghazal said. The Hamas leader, his body pocked with bloody wounds and blood streaming from his head and neck, was rushed to the hospital and into emergency surgery, but he died five minutes after arriving.
Two of Rantisi's guards, Akram Nassar, 35, and Ahmad Jhura, 32, were also killed, hospital officials said. Five pedestrians were wounded.
Israeli officials accused Rantisi of planning a large attack on Israel to solidify his leadership of Hamas and to retaliate for Yassin's killing. Hamas is responsible for most of the 112 suicide bombings that have killed 465 people on the Israeli side during 3 1/2 years of violence.
"There is no question. This is a great success," Israeli Cabinet minister Uzi Landau said.
Israeli government sources said they had struck at the first available opportunity, but had to wait for weeks because Rantisi had surrounded himself with children.
Palestinian Prime Minister Ahmed Qureia accused the United States of encouraging Israel's actions. Israeli sources said the strike was not coordinated with Washington.
British Foreign Secretary Jack Straw condemned Israel's policy of targeted killings as "unlawful, unjustified and counterproductive." In Cairo, Hossam Zaki, spokesman for the Arab League, called the assassination "a criminal act" that puts an end to all peace efforts.
Rantisi was one of the most hard-line members of the militant movement, which rejects all compromise with Israel and calls for the destruction of the Jewish state.
Israel had tried to kill Rantisi on June 10 when three Apache helicopters fired at least seven missiles toward his car in a crowded Gaza thoroughfare, reducing his vehicle to a scorched heap of metal. Rantisi escaped with a wound to the right leg. Two Palestinian bystanders were killed.
In a retaliatory attack the next day, 16 Israelis were killed in a Hamas suicide bombing in Jerusalem.
Israel has stepped up strikes on Hamas in advance of a proposed unilateral pullout from Gaza. Israeli officials have said they hope a string of military successes will show that the militant group was not driving it out of the coastal strip.
"No terrorist can go home to sleep at night thinking he is immune," Olmert, the Israeli vice premier, said Saturday. "They (militants) are in our crosshairs ... and should run and hide from the Israeli forces who can get to them everywhere."
After Rantisi was killed, thousands of people protested in cities across the West Bank and Gaza, calling for revenge. Palestinian prisoners in one lockup in southern Israel briefly rioted, media reported.
Mosques announced his killing over loudspeakers, and protesters in Gaza burned tires in the streets.
During the mourning period for Yassin, Rantisi was defiant about Israel's threats against him. "We will all die one day. Nothing will change. If by Apache or by cardiac arrest, I prefer Apache," he said.
Hours before Rantisi was killed, a Palestinian suicide bomber blew himself up at the Erez industrial zone, killing an Israeli border policeman and injuring three security workers. The bomber had passed through a metal detector at a security check, said Col. Yoav Mordechai, a commander at the crossing.
The militant groups Hamas and the Al Aqsa Martyrs' Brigade took responsibility for the attack, identifying the bomber as Fadi Al-Amoudi, 22, from Beit Lahiya, a town near the crossing.
In further violence Saturday, a 5-year-old Palestinian girl was seriously injured in the West Bank town of Tulkarem when Israeli soldiers fired rubber bullets at the car she was traveling in, the army said. Troops shot when the driver did not follow orders to stop, the army said.
Palestinian hospital officials said the girl was hit with fragments of live bullets. The girl was being transferred to an Israeli hospital for treatment, the doctors said.
Today's Top News
Top World News

Hamas leader killed in Israeli strike




Premier: Further leaks should be avoided




Foxes, cats also SARS carriers




US soldier shown captive on videotape




Economic reform focuses on 7 fields in 2004




China-made BMW 318i debuts