Mediation halted in Najaf: Sadr spokesman
(Agencies)
Updated: 2004-04-17 22:11
Mediation between the U.S.-led coalition and Moqtada al-Sadr has been halted, the wanted Shiite cleric's spokesman said on Saturday, expressing concern U.S. troops were "poised to attack" the city.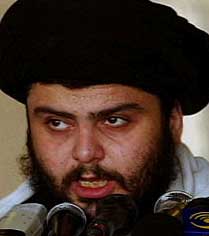 Iraqi Shiite cleric Moqtada al-Sadr

"Mediations with the U.S. side have been halted because the mediators have told us the Americans are putting obstacles towards finding solutions to the crisis and the situation is getting worse," Qais al-Khazaali, the head of Sadr's office, told reporters.

"We are expecting the Americans to attack Najaf any moment now," he said.

An AFP correspondent in the holy city reported hearing occasional gunfire in the direction of Bahr al-Najaf, north-west of the city, where U.S. troops are believed to be camped.

Mr Khazaali said Sadr's Mehdi Army militia was "ready for the battle".

"The attack by U.S. troops on Najaf will be the high noon for unleashing a massive popular revolt," said Mr Khazaali.

A representative of revered Shiite leader Grand Ayotallah Sistani warned U.S. troops on Friday that the holy cities of Najaf and Karbala are "red lines" that cannot be crossed.

The coalition is insisting Sadr answer charges related to the murder of a rival cleric last year and that he disband his Mehdi army as the coalition prepares to hand power over to an interim Iraqi government on June 30.

Sadr, who has been holed up in Najaf for the past 11 days, wants all his aides detained by the coalition to be released immediately and is also asking for guarantees that US troops would not invade holy Shiite cities.

Violent and deadly clashes between Sadr's militia and coalition troops in Baghdad and central and southern Iraq have prompted Shiites sitting on the U.S.-appointed Governing Council to try to mediate an end to the standoff.

Sadr said earlier this week that he was open to the mediations and hinted that he might be willing to convert his militia into a political and social organisation and appear before a court that belonged to a "legitimate and democratic" Iraqi government.

Tehran dispatched a foreign ministry delegation to Baghdad on Wednesday to assess the gravity of the situation and to try to calm the situation, but they left Saturday without going to Najaf.
Today's Top News
Top World News

US soldier shown captive on videotape




Rules to intercept unwanted messages




Scientist predicts earthquake by Sept 5




Alleged lover: Beckham affair mind-blowing




Beating the empty-nester blues




Over 8 hours sleep too much of a good thing