S. Korea court to proceed on Roh's impeachment case
(Agencies)
Updated: 2004-04-17 16:43
South Korea's Constitutional Court said on Saturday it would not be swayed by results of this week's landmark elections, in which voters rejected impeachment of their president and ended conservative control of parliament.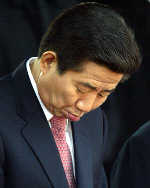 Impeached S. Korea President Roh Moo-hyun

"We are proceeding ahead with the case," Yang Chul-soo, a senior spokesman at the Constitutional Court said by telephone. "The election isn't in our consideration for the case."

The pro-government Uri Party captured a majority of the vote on a groundswell of support for the president, tripling its seats at the expense of the parties that sent him into a political limbo last month for violating a minor election law.

How S. Koreas impeach president

The nine-member Constitutional Court had 180 days to rule on parliament's March 12 impeachment of Roh for a technical violation of the electoral law, during which time Prime Minister Goh Kun is serving as acting president.

Asked whether the court would end the impeachment case if the parliament overturns its earlier vote, Yang said: "We can't make comments based on such an assumption. But we will have to discuss it, if the parliament takes proper legitimate procedures and the vote is withdrawn."

Uri Party leader Chung Dong-young has proposed meeting with Park Keun-hye, chairwoman of the opposition Grand National Party to discuss issues, including the reversal in impeachment vote.

But chances for scrapping the decision appeared slim as the head of the opposition Grand National Party has said she would await and respect the court's decision.

Roh's supporters planned to gather in Seoul's city center later in the day to hold a candlelight rally against the impeachment.

NEW ERA OPENS

Thursday's election marked the first time a left-leaning or liberal party had won control of a hitherto conservative chamber, and meant the pro-Roh Uri Party could push through reformist legislation long stalled by opponents. "Uri" means "our" in Korean. The party's full Korean name means "Our Open Party."

Newspapers described the election outcome as a generation shift from those who dragged the country from the ruins of the 1950-53 Korean War to those who grew up as South Korea secured its place as Asia's fourth-largest economy.

The Uri Party's chief said in an interview with the local Yonhap news agency on Saturday that Roh's reinstatement would be of great help in reviving a weak domestic economy.

"The most effective medicine to the local economy is to reinstate the president as soon as possible so as to help ease uncertainties," Chung said.

The Uri Party has said measures to boost the economy and enhance corporate transparency are priorities when the National Assembly convenes in June. Legislation on labor reform is also pending. Chung said tax breaks were planned.
Today's Top News
Top World News

US soldier shown captive on videotape




Rules to intercept unwanted messages




Scientist predicts earthquake by Sept 5




Alleged lover: Beckham affair mind-blowing




Beating the empty-nester blues




Over 8 hours sleep too much of a good thing