Bush, Blair affirm June 30 Iraq handover
(Agencies)
Updated: 2004-04-17 00:29
U.S. President Bush and British Prime Minister Tony Blair vowed on Friday that the June 30 deadline for handing over sovereignty over Iraq to the Iraqi people will be met.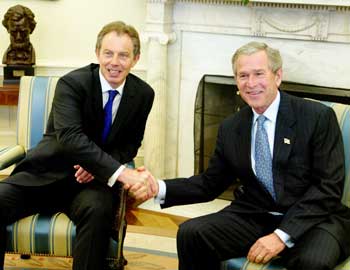 U.S. President George W. Bush and British Prime Minister Tony Blair meet in the Oval Office of the White House, April 16, 2004. [Reuters]
The two leaders met at the White House Friday, as Blair comes under renewed opposition at home -- and Bush faces a surge in violence on the ground in Iraq.
In a news conference after the meeting, Bush praised Blair and Britain for standing with the United States in the wars in Iraq and Afghanistan.
He said the Coalitional Provisional Authority in Baghdad will cease to exist after the handover date, but said that coalition forces will remain to provide security to the new Iraqi government.
"The stakes in Iraq are clear. Iraq will either turn back the challenges to democracy or return to the camp of terror," Bush said.
U.N. Secretary-General Kofi Annan on Thursday said that divisions within the international community over the war in Iraq are "beginning to heal," and that the international community is now focused on the common objective of bringing peace and stability to that country.
"Obviously the war in Iraq did introduce major divisions in the international community, which is beginning to heal," Annan told reporters after meeting with Blair.
But former British foreign secretary Robin Cook and opposition Liberal Democrat leader Charles Kennedy both urged Blair on Friday to warn Bush over his Iraq policies.
And Americans are facing newly announced delays in troops rotations in Iraq, with about 20,000 U.S. troops being held an extra 90 days to maintain combat strength amid battles that have killed at least 90 American service members this month.
For his part, the presumptive Democratic presidential candidate, Sen. John Kerry, must walk a fine line, criticizing Bush policy on Iraq -- reiterated Tuesday evening by the president in a prime-time news conference -- without appearing to undermine U.S. troops fighting there.
New protests of Blair policy

Cook, who left Blair's government in protest of Blair's decision to engage in military action in Iraq, told British radio on Friday that Blair would be a "false friend" if he "doesn't fairly bluntly put it to President Bush that he is pursuing policies in Iraq that are going to get us into increasing difficulty there."
"U.S. forces inside Iraq have got to stop approaching the country as if they are still waging a war and start recognizing that they are there to keep the peace and not expedite the violence," said Cook, who resigned from the British government last year in opposition to the U.S.-led war in Iraq.
Kennedy also told the BBC that Blair must warn Bush of the "massive degree" of international disquiet about the "tactics and the methodology" employed by U.S. forces in Iraq.
"In many ways they are being likened ... to some of the tactics that the Israeli forces have been using against the Palestinians," he said.
The tactics risked driving disaffected elements of the Iraqi community towards those opting for "savage and brutal forms of retaliation," said Kennedy, also an opponent of the war.
Bush and Blair are meeting in Washington amid a growing number of attacks on coalition troops by insurgents in Iraq and a spate of kidnappings of foreigners.
CNN European Political Editor Robin Oakley said sections of the British government are also starting to privately criticize U.S. military tactics.
Dana Allin of the London-based International Institute for Strategic Studies told CNN: "There's a general sense I think at least in the British Foreign Office and the British military that the U.S. tactics have been too heavy-handed and may be responsible for some of what we're seeing."
However, Oakley said Bush and Blair could be expected to make "a great show of unity."
"It would be interesting to know how much Tony Blair will raise those questions in private, although in public he will continue to say that such matters are for commanders on the ground," Oakley said.
"They're both sucked into the Iraq situation. They can't get out of it. They have got to demonstrate they have not weakened their resolve in any way.
"They will underline their readiness to keep more troops there if necessary, as well as their readiness to press ahead with a new U.N. resolution -- partly because that new U.N. resolution is the key to getting countries like France and Germany, who were opposed to the war in Iraq, much more involved in post-conflict operations," Oakley said.
"It's also the key to possibly getting NATO involved."
Blair, Annan affirm U.N.'s role

On Thursday, Blair said a new U.N. Security Council resolution was needed to help ensure the creation of a stable and democratic government in Iraq.
He was speaking after meeting U.N. Secretary-General Kofi Annan at U.N. headquarters in New York.
Blair said Britain was determined to see a transition to a stable, prosperous and sovereign Iraq state, and saw the United Nations playing a key role in this process.
Oakley said Blair also may privately express British concerns over how Bush is handling the Israeli-Palestinian conflict.
"There is no doubt that Tony Blair has been made uncomfortable by George Bush's endorsement of (Israeli Prime Minister) Ariel Sharon's plans on the Mideast peace process. George Bush went further than Tony Blair was told he was going to, and British officials are fairly cheesed off over that."
Blair has described Sharon's plan to pull out of Gaza and parts of the West Bank as a positive step that can lead "to a real sense of movement" in the Middle East peace process.
Speaking a day after Bush publicly endorsed the plan, Blair said Thursday: "I don't think we should ignore the fact that if it is the case that the Israelis, albeit unilaterally, disengage from the significant part of the West Bank and from Gaza -- well, that is quite a big change.
Asked if he thought Bush's shift in U.S. policy had pushed aside the so-called road map to Mideast peace, Blair said: "I don't see the road map as sidelined at all."
Today's Top News
Top World News

Beating the empty-nester blues




9 killed, 150,000 evacuated after gas leak




Corrupt Chinese official repatriated from US




Scientist predicts earthquake by Sept 5




Rules to intercept unwanted messages




US soldier shown captive on videotape