Rumsfeld: Iraq toll higher than expected
(Agencies)
Updated: 2004-04-16 08:04
Defense Secretary Donald H. Rumsfeld said Thursday that the death toll of U.S. troops in recent fighting in Iraq was higher than he had expected, acknowledging a change in plans as he announced thousands of soldiers won't be coming home as early as promised.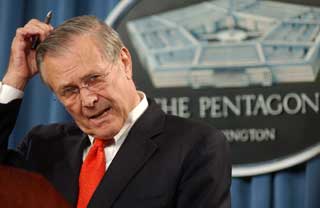 U.S. Secretary of Defense Donald Rumsfeld scratches his head while answering questions during a press conference at the Pentagon, April 15, 2004. Rumsfeld announced a boost in troop levels in Iraq, while also offering his condolences to family members of servicemen and women lost in recently increased violence. [Reuters]

Rumsfeld described a decision to keep some 20,000 troops inside Iraq longer than originally planned, telling reporters at the Pentagon: "I certainly would not have estimated that we would have had the number of individuals lost that we have had lost in the last week."

Halfway through April, the month already is the deadliest of the war for the United States, with 88 U.S. soldiers killed in a surge of violence coming from multiple insurgent factions inside the country. Hundreds of Iraqis have been killed.

The violence has prompted generals in Iraq to seek more combat power than they had originally planned, and the most convenient source will be the units scheduled to rotate home after yearlong tours.

The decision to keep more troops there breaks a promise to soldiers who were assured they would stay no more than one year. By extending their tours of duty by up to three months, the Pentagon is acknowledging that the insurgency has ruined its plans to reduce the size of the U.S. military presence this spring.

President Bush, speaking at a symposium in Iowa, also acknowledged the difficulties.

"The situation on the ground, I readily concede, is tough work," Bush said. "We've got good people there working it, and some have paid the highest price of all."

Those staying include two brigades from the 1st Armored Division, based in Germany, said Gen. Peter Pace, vice chairman of the Joint Chiefs of Staff, totaling as many as 14,000 troops. An additional 2,800 soldiers are from the 2nd Armored Cavalry Regiment, based in Fort Polk, La. These are forces geared for heavy ground combat, with tanks and armored Bradley Fighting Vehicles.

The rest include Army National Guard and Reserve units from 20 states, Pace said. Most are military police, engineer and transportation units, according to the Pentagon.

A few soldiers from the 1st Armored had already left. They will have to go back to Iraq, Army generals said.

Should the heightened violence last beyond 90 days and into summer, new units will be rotated into Iraq to take their place, Rumsfeld said. Officials did not specify which units those might be.

An uprising by followers of militant Shiite cleric Muqtada al-Sadr in southern Iraq, coupled with heavy fighting between Marines and Sunni fighters in the restive Fallujah region west of Baghdad, has led to concerns of wider resistance to the U.S. occupation in advance of the scheduled June 30 transfer of power to an Iraqi government.

The United States has a total of about 137,000 troops in Iraq now, Rumsfeld said. That number was supposed to have decreased to 115,000 by May, but Rumsfeld said Gen. John Abizaid, the overall commander of the Iraq war, decided he needs to keep the force level at about 135,000 troops.

Some critics have asserted throughout the U.S. occupation of Iraq that the military had too few troops on the ground to stabilize the country and assure its economic and political rebuilding.

Pace rejected such criticism, saying generals request the firepower they need but know that having too many soldiers risks increasing local resentment.

While extending tours of soldiers in Iraq is not unprecedented, it is done with great reluctance because of concern about morale.

Gen. George Casey, the Army vice chief of staff, told reporters Thursday that he believes these soldiers accept that their first obligation is to succeed in the mission.

"Everybody's disappointed," he said. "Does it create morale problems? Depends on the strength of the unit. These guys will always place the mission first. Every soldier understands that."

At a Baghdad news conference Thursday, Gen. Richard Myers, chairman of the Joint Chiefs of Staff, was asked whether the troop extensions indicate plans for large-scale offensive operations. He did not answer directly, saying the move was deemed necessary given "extremist and terrorist acts that must be dealt with."

The Army is so stretched by its commitments in Iraq, Afghanistan, the Balkans and elsewhere that it has few, if any, forces immediately available to substitute in Iraq for the 1st Armored or 2nd Armored Cavalry.

Also, these units have been heavily involved in one of the most important U.S. military missions there: training thousands of Iraqi security forces. Those Iraqi army and civil defense corps members are central to the Pentagon's plan for eventually turning over military control to the Iraqis and pulling out U.S. troops.
Today's Top News
Top World News

China foils US anti-China human rights motion




Tung tells NPC of need for election change




US: China does not manipulate currency




269.7 kg of heroin found in beehives




Purported bin Laden 'truce' is rejected




Private car ownership sparks problems