Guangzhou a lonely bidder for 2010 Games
(chinadaily.com.cn)
Updated: 2004-04-15 12:30
A five-member Evaluation Committee of the Olympic Council of Asia (OCA),arrived in Guangzhou Wednesday to inspect the city's venues and preparations for the 2010 Asian Games bid, now the sole bidder to host the games after Kuala Lumpur announced its withdrawal the same day.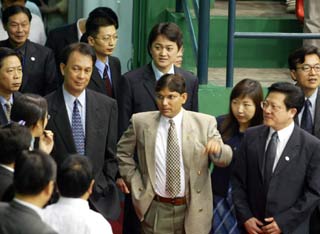 Vinod Kumar Tiari (centre), a member of the Evaluation Committee of the Olympic Council of Asia, makes a point during the group's inspection tour around the Tianhe Sports Centre of Guangzhou, capital of South China's Guangdong Province. [newsphoto]

Malaysian Sports Minister Azalina Othman said the estimated US$366 million it would cost to host the games was too much.

"The Cabinet has decided that Malaysia does not bid to host the 2010 Asian Games because of the cost implications," Azalina said. "It is not that we do not want the job, but it is very expensive."

The Olympic Council of Malaysia handed bid documents to the Olympic Council of Asia last month, putting Kuala Lumpur alongside planned bids from South Korea, Jordan and China.

During a three-day tour, the committee will inspect systems and facilities, including sports venues, airports, TV stations, a medical centre, 110 emergency systems and cultural sites,in an effort to evaluate the city's capacity to host the Games.

Under the Guangzhou 2010 Asian Games Bid Committee's plan, the evaluation group will also visit other renowned traditional sites, including Beijing Road, a commercial street.

The committee, headed by Celso Dayrit, the OCA's vice-president, consists of seven members.

It sent five members to Guangzhou, capital of South China's Guangdong Province, after its stay from April 11-13 in Kuala Lumpur, capital of Malaysia, according to the OCA.

Following the withdrawal of bids from the Republic of Korea, Jordan and Malaysia, Guangzhou is now the only bidder for the Games.

The evaluation committee will submit its final report to the OCA Executive Board in its meeting on June 30. The board will study the report and forward its recommendation to the OCA General Assembly, according to Dayrit.

Today's Top News
Top Sports News

China's economy grows 9.7% in first quarter




68 officials punished for deadly accidents




1 Italian hostage killed; 2 more Japanese held




EU set to lift ban on arms sales to China




Beijing slams Chen's 'independence push'




Cheney: US-China relations in good shape