1 Italian hostage killed; 2 more Japanese held
(Agencies)
Updated: 2004-04-15 08:52
Two more Japanese civilians have been kidnapped in Iraq in addition to three taken hostage by militants last week, Japanese media said on Thursday, as the hostage crisis dragged on with little sign of resolution.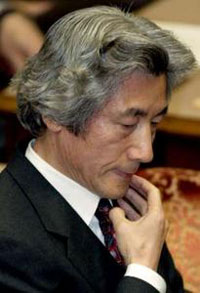 Japan's Prime Minister Junichiro Koizumi pauses during a debate with opposition leaders at parliament in Tokyo, April 14, 2004. Koizumi has insisted that he will not withdraw Japan's 550 troops from southern Iraq, where they are engaged in reconstruction work. [Reuters]

Meanwhile, Iraqi militants executed one of four Italian hostages, Italy confirmed. The captors issued demands including the withdrawal of U.S. forces from Iraq and threatened to kill the three others, according to the Arab TV network Al-Jazeera, which said it received a videotape of the murder.

The killing of the Italian, a security guard, is the first known execution of any of the 22 foreigners kidnapped in Iraq and could further dissuade international aid workers, contractors and journalists, some of whom are already restricting their activities in the country. Earlier Wednesday, Russia announced it will evacuate its citizens.

Italian Prime Minister Silvio Berlusconi vowed on Thursday to keep troops in Iraq despite the killing of an Italian hostage in scenes Al Jazeera said were too bloody to screen.

"They have destroyed a life. They have not cracked our values and our efforts for peace," Berlusconi said in a statement after the killing of security guard Fabrizio Quattrocchi.

The killing by a previously unheard of Iraqi group followed a spate of kidnappings that has snared foreign civilians from at least a dozen countries this month, Iraq's bloodiest period since Saddam Hussein was ousted a year ago.

It was the first time in the wave of kidnappings that a group had openly publicized a hostage killing.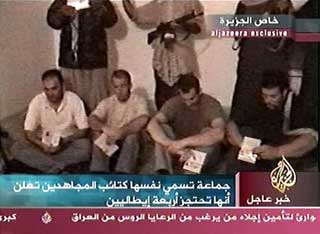 Television image aired April 13, 2004 by Arabic television Al Jazeera shows Italian hostages, one of whom has has been killed according to Al Jazeera television on April 14, 2004. Arabic television Al Jazeera said on Wednesday the kidnappers of four Italians in Iraq had killed one hostage and were threatening to kill the rest. [Reuters]


A Japanese Foreign Ministry spokesman said the government was still trying to confirm the media reports, which said a Japanese non-governmental organization had received an e-mail saying two Japanese had been kidnapped near Baghdad.

The two were tentatively identified by Kyodo news agency as freelance journalists Jumpei Yasuda and Nobutaka Watanabe.

An Iraqi militant group took three Japanese civilians hostage last week and threatened to kill them if Japan did not withdraw its troops from Iraq.

Although the group later said the hostages would be released, their fate remains unknown.

Japanese Prime Minister Junichiro Koizumi has vowed not to pull out some 550 Japanese soldiers taking part in a non-combat mission in southern Iraq.

Analysts say his handling of the situation could affect the showing of his ruling coalition in Lower House by-elections later this month and a poll for parliament's Upper House in July.

The outcome is also certain to affect debate over what role Japan -- now testing the limits of its pacifist constitution -- should play in global security matters.

The three Japanese taken hostage last week are Noriaki Imai, 18, who wanted to look into the effects of depleted uranium weapons, freelance journalist Soichiro Koriyama, 32, and aid worker Nahoko Takato, 34.

Up to 40 foreigners from at least a dozen countries are being held hostage in Iraq, where U.S. forces are locked in some of the fiercest fighting with Sunni and Shi'ite forces since the fall of Saddam Hussein a year ago.

Italy said on Thursday that one of four captive Italians had been killed, but Prime Minister Silvio Berlusconi was quoted by Italian state TV as saying the killing would have no impact on Rome's refusal to withdraw from the U.S.-led force in Iraq.

Japan's public is deeply divided over the dispatch of troops to southern Iraq, where they carrying out reconstruction work.

The deployment is Tokyo's riskiest military mission since World War II and a major step away from a purely defensive military posture.
Today's Top News
Top World News

Beijing slams Chen's 'independence push'




Cheney: US-China relations in good shape




Chinese TV makers to appeal US tariffs




68 officials punished for deadly accidents




1 Italian hostage killed; 2 more Japanese held




Bush endorses Sharon's plan on W. Bank