Year of Monkey to see minor baby boom
(Xinhua)
Updated: 2004-04-14 17:03
China is expecting a minor baby boom this year, in the "Year of The Monkey," as many Chinese people believe "monkey" babies will be more cute, bright and intelligent.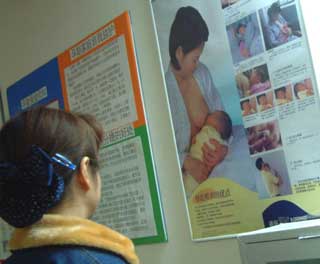 A woman reads posters about family planning and baby caring in Shanghai. [newsphoto file]

Statistics from major hospitals in Nanjing, capital of East China's Jiangsu Province, indicate that the number of pregnant women surged in the first quarter of the year. The Nanjing Municipal Women and Children Health Care Center welcomed 664 newborns in February, up 16 percent over same period last year. The figure in March was 670, up 34 percent.

The increase in newborns caused a strain on facilities. Many couples even made reservations several months beforehand fearing the hospital may decline to accept them.

Doctors and nurses at the Nanjing Municipal Women and Children Health Care Center said they have decided to restructure wards and increase the number of beds to cater to increasing demand.

Nanjing city is not the only place in the country to expect more babies this year. Other major cities, like Shanghai and Beijing, also witnessed more pregnant women. In 2003, 20,000 babies were born during the February-April period in Shanghai, the largest city in China. Experts predicted that the figure this year will possibly reach 22,000.

The year of 2003 was the "Year of Goat" according to the Chinese lunar calendar. According to China's old, traditional thought, babies born that year will suffer from ill fortune. Hence, many would-be mothers thus delayed their plans to have a baby.

However, experts disagree with their decisions. They acknowledged that the birth peak may bring a series of ripple effects. There will be problems for children born this year in entering schools, colleges and then finding jobs. In fact, the "dragon babies" or the millennium babies born in 2000 have faced these problems already. In 2003, China's "millennium babies" who have reached school age encounter kindergarten queues.

Experts said these "monkey babies" could possibly even create another birth peak when they grow up and get married.
Today's Top News
Top China News

Beijing slams Chen's 'independence push'




1 Italian hostage killed; 2 more Japanese held




Cheney: US-China relations in good shape




Chinese TV makers to appeal US tariffs




68 officials punished for deadly accidents




Bush endorses Sharon's plan on W. Bank