Lack of ships sink sea-burial service
(eastday.com)
Updated: 2004-04-13 09:05
Few ship companies are willing to provide vessels for sea-burial ceremony, baffling Shanghai's promotion for the land-economy and eco-friendly service, the Shanghai Evening News reported.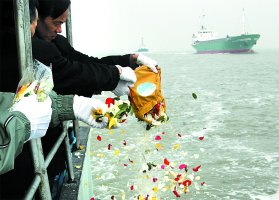 A man drops ashes of the deceased into the sea. [file photo]

Wang Hongjie, vice dean of Shanghai Burial Service Center, authority of the city's burial service, said "many ship companies think burial service is ominous and are unwilling to rent ships for us".

Ship companies finally convinced to rent us ships usually demand an additional sum of money to "ward off the bad luck" according to the Chinese tradition, according to Xu Guoxiang with the center's Sea-burial Service Department.

"Companies usually require us to keep the deal a secret to prevent mar to their reputation," she added.

Since Shanghai first organized the sea-burial service in 1991, bone ashes of 9,208 corps have been dumped into sea.

The growing popularity of the service has cause a rising demand for ships, Xu said.

"Though those sea-burial only accounts for 1 percent of the total, the rate jumps by 10 percent each year," she said. "Therefore, we want bigger and more ships."

The ship the department now rents, with a capacity for 900 people to attend the ceremony, is far from the need, she added.

Meanwhile, the demand for customized service is on the rise, Xu pointed out.

"Many people don't like a public service," she said, adding "Some ask for a luxury yacht and some want a small boat for a private ceremony".
Today's Top News
Top Life News

Beijing slams Chen's 'independence push'




1 Italian hostage killed; 2 more Japanese held




Cheney: US-China relations in good shape




Chinese TV makers to appeal US tariffs




68 officials punished for deadly accidents




Bush endorses Sharon's plan on W. Bank