Parks pay price for free day
(eastday.com)
Updated: 2004-04-13 08:48
New grass was trampled and strewn with rubbish and people stole and damaged plants as 500,000 flocked to free open parks in Shanghai on Saturday.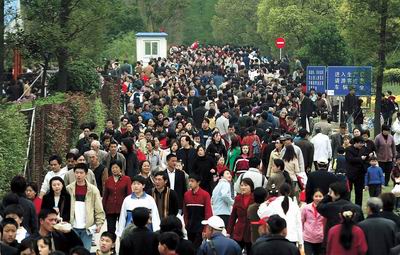 More than 500,000 people throng to public parks around Shanghai on Saturday, the second free-admission day this year. The overcrowded parks reported problems ranging from ruined flower beds to shortage of toilets. [eastday.com]

At the Shanghai Botanic Garden, half of the newly grown bamboo shoots were stolen and 200 square meters of tulips were damaged.

Roped-off areas of new grass were trampled and people threw garbage on it.

At the Gongqing Forest Park, many old people deliberately rooted up wild vegetables which are said to be nutritious and fairly expensive in downtown food markets.

Twenty-four local parks were open free on Saturday for the second time.

Free park service on the 10th of every month is a new welfare policy to bring more people closer to outdoor activities and boost the park business.

Saturday's crowds were almost double the number who attended the first free day on March 10.

The botanic garden, Gongqing Forest Park and Guyi Garden were the most popular destinations. Tickets for those parks normally cost at least 15 yuan (US$1.8).

The botanic garden had its first guest at 7am on Saturday. Soon after, the garden was packed with people with families or tour groups. Visitors had to nudge their way through narrow passages clogged with a continuous stream of people.

Toilets and restaurants were kept busy as people queued in meter-long lines and some convenience stores were crowded with parents trying to pacify tired and fussy children.

At Gongqing Forest Park, women were forced to use men's toilets as they were unable to wait any longer in the queues.

Park administrators said they had made plans to cope with bigger crowds.

"Local police sent 80 officers to patrol the whole park and all staff who usually work in the park office had to walk around to offer help," said Yu Hongwei, an official with the botanic garden.

Eighty new benches and some mobile coin-operated toilets were brought in.

Administrators said about 200 local policemen were on duty in a coordinated effort around the parks.

But the size of the crowds and the discourteous actions of some visitors made it hard to cope.

"It just couldn't be helped," said a service woman at the botanic park.

Shanghai Greenery Administration Bureau officials appealed to local residents to be patient as the free days would continue and the bureau would try to improve the service. They also hope visitors will cooperate.
Today's Top News
Top Life News

Seven Chinese kidnapped in Iraq are freed




New policy eases one-child restrictions




Beijing reaffirms stand against independence




One woman's torturous passage to America




China's foreign trade remains in deficit




Satellite gets rave reviews