Likely Sino-Indian FTA conducive to nation
By Jia Hepeng (China Business Weekly)
Updated: 2004-04-11 14:23
China and India formally launched talks to possibly sign a bilateral free trade agreement (FTA), which analysts say will help China establish a diversified trade system.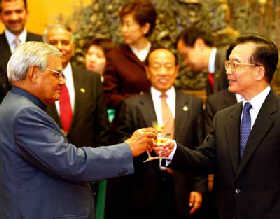 Chinese Premier Wen Jiabao (right) toasts Indian Prime Minister Atal Behari Vajpayee after the two signed agreements in Beijing, June 23, 2003. [newsphoto.com.cn]

"Although a FTA between China and India will be hard to achieve in the short term, its significance in forming a multi-party regional free trade system is apparent, given the huge population and size of the two countries," said Wen Dehai, director of Chengdu-based Sichuan University's Institute of South Asian Research.

Wen is a government consultant in South Asian policies.

Senior officials from China and India launched the first meeting to discuss signing a FTA and a comprehensive economic co-operation agreement in Beijing between March 21 and 22.

The first meeting was co-chaired by Reserve Bank of India's Deputy Governor, Rakesh Mohan, and China's Vice-Minister of Commerce, An Min.

The two sides are scheduled to work out a clear timetable and study the areas of co-operation in trade, investment and other issues. Also, they will try to work out a specific five-year programme for economic partnership.

The meeting is a result of the surging economic and trade relationship between the two Asian giants, each having populations of more than 1 billion.

In 2003, Sino-Indian bilateral trade touched a record figure of US$7.6 billion, up 53.6 per cent over 2002, the year in which the bilateral trade also rose by 37.6 per cent.

Tata Group, one of India's largest conglomerates, plans to increase its investment from US$2 million to US$5 million in China's software sector and is also mulling over joint-venture projects in other sectors like auto and steel.

China's home electric appliance makers Guangdong Province-based Konka and TCL have also established joint ventures in India.

During the meeting, the newly appointed Chinese Minister of Commerce, Bo Xilai, met with Mohan and expressed confidence in forging a strong trade and economic relationship with India.

"There are strong economic complementary aspects between China and India and there is a bright future for economic co-operation,?Bo was quoted as saying by the Hindustan Times.

The tightening economic ties between China and India can also help ease the potential political conflicts caused by border disputes and other thorny issues, said Sun Peijun, professor at the Chinese Academy of Social Sciences (CASS) and also president of the Chinese Association of South Asian Studies.

However, the stronger trade ties and complimentary economic structures cannot ensure the quick establishment of a FTA between the two countries, Wen told China Business Weekly.

The 2003 trade volumes between the two countries only account for 5 per cent of India's foreign trade and 0.8 per cent of China's trade, which was US$851.2 billion. Whether priority can always be given to the FTA negotiations between China and India remains questionable, especially when regional trade blocs are increasingly replacing the role of the World Trade Organization (WTO), Wen said.

India's rising resistance to inexpensive Chinese goods is another challenge to the forging of a free trade zone between the two countries, Wen added.

In the latter half of 2001, nine of 25 anti-dumping investigations against Chinese goods were launched by Indian authorities.

In 2002, 10 anti-dumping litigations were initiated by Indian companies against Chinese firms, involving batteries, tapeline and silk.

India's manufacturing is relatively closed and has poor competitiveness, especially in production costs. Therefore, when cheap Chinese commodities flood the India market, they will naturally be charged with dumping, said Li Wei, an expert with Chinese Academy of International Trade and Economic Co-operation (CAITEC). This body is the think tank of the Ministry of Commerce.

Last year, China's Konka stopped its manufacturing in India due to the allegedly restrictive policies and TCL was reported to have deep difference with its Indian partners.

If the free trade negotiation is to be advanced, Indian manufacturers have to improve their competitiveness and patience, but this is very hard to be accepted by Indian manufacturers. India's developed multi-party system may make trade disputes rise to the political level, increasing the difficulties towards a trade compromise, Wen said.

Although India's software has become world famous, the mutual competition between the two countries is inevitable, as major industries of both countries are labour intensive, Wen added.

The potential for political conflicts cannot be completely eradicated.This may delay or end the free trade talks, Sun told China Business Weekly.

Despite the difficulties, Zhang Yunling, director of the Institute of Asia-Pacific Research under CASS, argues that the free trade talks with India are important, and their significance mainly lies in a diversified multi party free trade system China is forging.

Zhang is former chairperson of the China-ASEAN expert panel that in 2001 drafted a China-ASEAN FTA feasibility plan.

"Due to the slow process of WTO talks, the limited tariff reduction under the global trade mechanism, and the dominance of developed countries in the trade club, China must seek diversified regional free trade system to facilitate its rising exports,?Zhang told China Business Weekly.

Former Chinese Premier Zhu Rongji and the leaders of ASEAN's (Association of Southeast Asian Nations) 10 member countries in November 2002 reached an agreement towards creating by 2010 the world's largest FTA, with about 1.7 billion residents and nearly US$2 trillion worth of trade annually.

However, the negotiation process has been slowed in recent months and some ASEAN countries, especially more developed ones like Singapore, Malaysia and Thailand, have launched separate FTA talks with Japan, Australia, the United States, and other countries like India.

On the other hand, the political and economic conditions in Northeast Asia ?China, Japan, Democratic People's Republic of Korea and Republic of Korea ?made it impossible to launch any regional FTA negotiation.

"The fact illustrates that China's free trade efforts cannot solely rely on East Asia. The talks with India, which may be extended to other South Asian countries, are worthwhile to have a multilateral free trade system for China," Zhang concluded.
Today's Top News
Top China News

Document: Bush warned of al-Qaida plot before 9/11




Kidnapped Japanese in Iraq to be released




Big rally demands inquiry into shooting




Pressure on students causes social problems




Rich gas in Tarim to ensure stable supply




Bird flu found at two more Canadian farms