Beckham media frenzy grows over 'affair' claims
(Agencies)
Updated: 2004-04-11 09:29
The media frenzy surrounding David Beckham's marriage intensified on Sunday when a newspaper printed allegations from a second woman who claimed to have had an affair with the England soccer captain.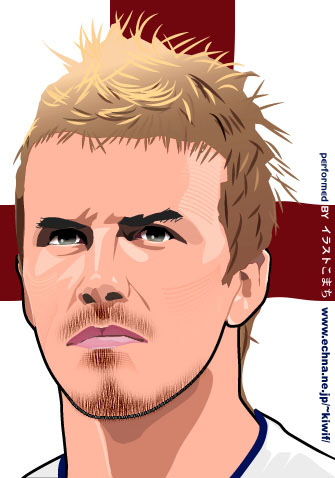 Beckham has already dismissed claims over the past week from his former personal secretary Rebecca Loos that she had sex in Madrid with the 28-year-old midfielder.
On Sunday the News of the World printed lurid allegations from another woman dating back to July 2001 -- just two years after Beckham's marriage to former Spice Girl Victoria Adams.
It described Sarah Marbeck as a 29-year-old barrister's daughter and said she had met Beckham in Singapore during a Manchester United pre-season tour of the Asia-Pacific region.
The newspaper also carried an interview with Loos, 26, who a News of the World spokesman said was paid a six-figure sum for allegations that Beckham has described as "ludicrous."
Speculation about Beckham's five-year marriage first began when the golden boy of English football moved from Manchester United to Real Madrid last summer.
His wife has refused to relocate to Spain, determined to pursue her own pop career in Britain and keep the couple's two children with her.
Last week, sexually explicit text messages said to have been sent between Beckham and Loos unleashed a storm of speculation when they were published in tabloid newspapers.
Then on Saturday, Loos, who lost her job as Beckham's assistant in Spain when he ditched her public relations company, was quoted in the Sun tabloid as telling a friend she had had an affair with him.
Loos, the daughter of a Dutch diplomat and an English mother, was photographed with Beckham in a Madrid nightclub last September, prompting rumors of an affair at the time.
LUDICROUS STORIES, SAYS BECKHAM
Denying her allegations, Beckham said in a statement last week: "During the past few months I have become accustomed to reading more and more ludicrous stories about my private life. (This) is just one further example."
Victoria Beckham, 29, has told the Sun the couple's relationship will survive.
"We have been through a lot worse than this and we're definitely going to get through this," she said.
The Beckhams staged a public display of affection for a celebrity photographer as David joined his wife and sons on a skiing holiday in the French Alps last week.
Newspapers said Victoria was also expected to make a point of being at the Real Madrid ground later on Sunday to see her husband play.
Beckham met Victoria, known as "Posh Spice," in the mid-1990s. The perfect celebrity match-up, they married in a royal-style wedding in 1999 at which they sat on thrones in a ceremony widely mocked for its extravagance.
Beckham regularly makes front page news in Britain and barely a day passes without pictures of Victoria and the couple's sons Brooklyn and Romeo being published in celebrity magazines.
Today's Top News
Top Sports News

Iraqi group claims holding 30 foreign hostages




Big rally demands inquiry into shooting




Pressure on students causes social problems




Rich gas in Tarim to ensure stable supply




Social security cash to be invested overseas




In Chongqing its all in the cards