Iraqi group claims holding 30 foreign hostages
(Agencies)
Updated: 2004-04-11 00:07
An Iraqi group claims on Saturday that they were holding 30 foreign hostages and threatened to decapitate them unless U.S. forces lifted their blockade of the Iraqi town of Falluja.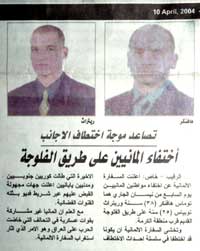 Iraqi newspaper Al Raqeeb displays pictures April 10, 2004 of two men it said the German embassy in Baghdad had confirmed went missing on April 7 on a road near the volatile Sunni town of Falluja. The newspaper named the men as Ritrath Tobias (left), aged 25 and Thomas Haffenker, 38. [Reuters]

The group, calling itself the "Brigades of the Hero Martyr Sheikh Ahmed Yassin," said: "We have Japanese, Bulgarian, Israeli, American, Spanish and Korean hostages," a masked gunman said in an footage aired by Arab TV station, Al Arabiya. The footage showed no hostages.

At the time when the group calling for U.S. forces to lift blockade of the Iraqi town of Falluja, U.S. Marines have moved a third battalion near Fallujah to join siege of the city, where two battalions of about 1,200 Marines are already in place, Brig. Gen. Mark Kimmitt said Saturday.

Kimmitt said Marines would end their 24-hour-old pause in offensive operations in Fallujah if discussions between Iraqi politicians and Fallujah city officials do not produce results. He said the insurgents continued to fire at U.S. forces.

"There is a new battalion, third battalion of Marines," Kimmitt said.

"Were we not at this point observing suspension of offensive operations, I think we would have been much further along, and it could well have been that we would have had the entire the city by this point," he told reporters in Baghdad.

JAPANESE FM APPEALS FOR RELEASE OF HOSTAGES

Japanese Foreign Minister Yoriko Kawaguchi appealed on Saturday for the release of three Japanese hostages in Iraq as protesters called for Tokyo to withdraw its troops to save the captives' lives.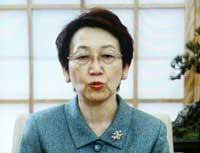 A still from a video released by Japanese Foreign Ministry on April 10, 2004 shows Japan's Foreign Mnister Yoriko Kawaguchi appealling to the captors of three Japanese hostage in Iraq. [Reuters]

"The three Japanese hostages are private individuals, and friends of Iraq...The people of Japan and I strongly demand for an immediate and safe release of the three hostages," she said.

The video message comes with less than 24 hours to go until a deadline set by the kidnappers, who have threatened to burn the hostages alive if Japanese troops do not pull out of Iraq.

Kawaguchi's video, including an Arabic version, will be distributed to TV broadcasters around the world on Saturday.

Japan was stunned on Thursday when an unknown group released a video showing the hostages, blindfolded and with a gun to their heads.

A Japanese foreign ministry official said the ministry was checking the report and could not comment whether any Japanese, apart from the three hostages, had gone missing in Iraq.

There was no word on the whereabouts of the three hostages and a senior Japanese diplomat sent to Jordan declined to say whether he had contacted the kidnappers.

KOIZUMI'S TOUGHEST TEST

Some 1,000 protesters demanding troops come home gathered near Prime Minister Junichiro Koizumi's office hours before Vice President Dick Cheney arrived to start of a three-nation Asian tour.

"Our will is being tested in Iraq as we have seen in the heavy fighting this week," Cheney said en route to Tokyo. "It is absolutely essential that we finish the task at hand."

Koizumi, facing his toughest test, has vowed not to pull out the troops, but some analysts say mishandling the crisis could bring down his government.

Relatives of the hostages said they were worried by the apparent lack of progress and shortage of information.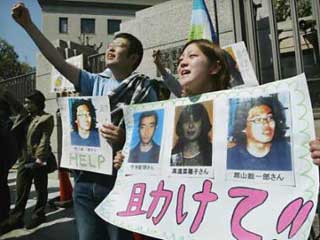 Protesters holding portraits of three Japanese hostages in Iraq demand the withdrawal of Japanese troops at a rally in Tokyo April 10, 2004. [Reuters]

"I assume that there have been advances, but without the release of information we really don't know what's going on," said Takashi Imai, father of hostage Noriaki Imai, an 18-year-old who graduated from high school just last month.

NOT CAVING IN

The three are Imai, who had planned to look into the effects of depleted uranium weapons; female aid worker Nahoko Takato, 34; and freelance reporter Soichiro Koriyama, 32.

The public was sharply divided over the decision to deploy some 1,000 troops to Iraq and nearby countries in Japan's riskiest military operation since World War II.

Critics say the deployment violates Japan's pacifist constitution and resent what they see as U.S. pressure to make the decision. Supporters say it is time for Japan to take a bolder role in global security.

A survey by Kyodo news agency found that 45.2 percent of respondents opposed the decision to keep the troops in Iraq and 43.5 percent supported it.

The precise deadline set by the kidnappers was not clear, but a Japanese ruling coalition official put it at around 9:00 p.m. (1200 GMT) on Sunday.
Today's Top News
Top World News

Iraqi group claims holding 30 foreign hostages




Social security cash to be invested overseas




Rich gas in Tarim to ensure stable supply




Big rally demands inquiry into shooting




Pressure on students causes social problems




In Chongqing its all in the cards