Scooters the wheel deal
(China Daily)
Updated: 2004-04-10 16:04
When poverty-stricken Italy first emerged out of the rubbles of World War II, mopeds, scooters and motorbikes were a cheap alternative to cars. Today, they are once again in fashion, but for rather different reasons.
Soaring urban congestion, the closure of city centres to non-residents and the lack of parking spots means more and more Italians are falling back in love with motorized two-wheelers.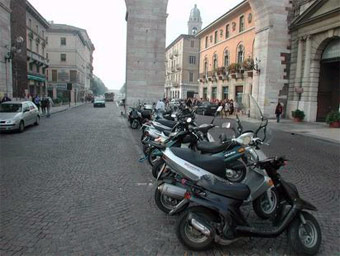 More than a third of all Italians currently drive a scooter or motorbike. [newsphoto/file]

According to a recent survey by Censis, a socio-economic research institute, more than a third of all Italians currently drive a scooter or motorbike. This compares to 25.5 per cent in 2001.

ANCMA, an association of Italian scooters and motorbike manufacturers, estimates the total number of two-wheelers now circulating in Italy at over 10 million, up from less than 8 million in 1991.

Of these, around 6 million are mopeds and scooters, 4 million are motorbikes.

The Censis survey offers some interesting insights into the two-wheeler phenomenon. More and more new buyers are in their 40s and 50s, while there are more old-age pensioners (6.5 per cent) driving a motorbike or scooter than under 30s (6.1 per cent). And more and more women are slipping into the saddle.

Italians spend an average of 1,515 euros (US$1,860) per year, or 4.2 euros per day, on their bikes.

Motorbike and scooter sales first boomed during the 1950s. At that time, Italian Vespa scooters also became popular abroad courtesy of two movies: "Roman Holiday," in which Gregory Peck shows Audrey Hepburn around Rome on his Vespa, and Federico Fellini's "La Dolce Vita," in which Marcello Mastroianni gives Anita Ekberg a lift on his scooter to help her escape from the paparazzi.

Sales slowed down during the 1960s but became fashionable again in the 1970s, when motorbikes and scooters were associated by youths with a newly found freedom.

The introduction of compulsory helmets, during the mid-1980s, slowed down sales once again amid protest chants of "hair to the wind." But once Italians grew accustomed to wearing helmets, there was no stopping the surge in sales, courtesy also of new and better models being imported from Japan.

The latest boom in sales has much to do with the congestion enveloping Italian cities.

"I couldn't move around this city without my scooter," says Margherita, a 30-year-old book shop clerk who works in central Rome.

"Public transport is overcrowded by day and dangerous at night. And I won't even consider buying a car because of the traffic and the lack of parking places," Margherita says.
Today's Top News
Top Life News

Social security cash to be invested overseas




In Chongqing its all in the cards




Russian scientists plan to send men to Mars




Corpse show stages to provoke, to educate?




US expert investigates shooting on Chen




Japan has few options for Iraq hostages