Koizumi in pinch over Iraq hostage crisis
(Agencies)
Updated: 2004-04-09 14:09
Facing his toughest political test, Japanese Prime Minister Junichiro Koizumi told an anguished Japan on Friday he had no plans to pull troops from Iraq despite threats to kill three Japanese civilians kidnapped by insurgents there.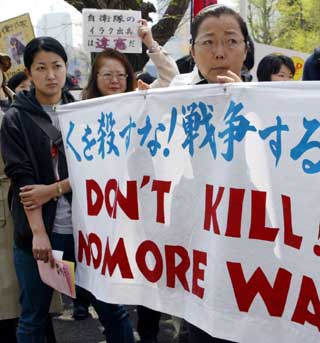 Demonstrators holding a banner call for the withdrawal of Japanese forces from Iraq in front of the Lower House of the parliament in Tokyo April 9, 2004.[Reuters]

Tearful families of the hostages pleaded for the government to rescue their loved ones, and the mother of 18-year-old Noriaki Imai urged to the government to withdraw the troops.

Calls for withdrawal of Japan's non-combat troops are growing and some analysts said mishandling of the crisis could even bring down the government, a prospect that worried financial markets.

Japanese were stunned when a previously unknown Iraqi group released a video late on Thursday showing the three hostages, including one woman, blindfolded and with a gun to their heads.

The group vowed to "burn them alive" if Japanese troops did not leave Iraq within three days.

"I want to ask for the troops to be quickly withdrawn so my son and the others will come back to us safely," Naoko Imai told reporters before visiting the foreign ministry.

Koizumi, however, told a news conference he was not considering withdrawing troops from Samawa, in southern Iraq, where 550 Japanese soldiers are stationed.

"We should not give in to these despicable threats from terrorists," Koizumi said. He added that the most important thing was to ensure the safety of the hostages.

The whereabouts of the three -- Imai, who had planned to look into the effects of depleted uranium weapons; aid worker Nahoko Takato, 34; and freelance reporter Soichiro Koriyama, 32 -- was unclear.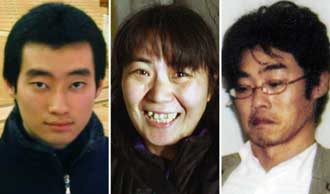 From left to right, Noriaki Imai, 18, Nahoko Takato, 34, and Soichiro Koriyama, 32. [Reuters]

So was the precise deadline, although one ruling coalition official said it was around 9:00 p.m. (1200 GMT) on April 11.

Besides the Japanese, seven South Koreans and a Briton were among those reported taken hostage. The Koreans were later freed.

Vice President Dick Cheney, who arrives in Tokyo on Saturday at the beginning of an Asian tour, is expected to urge Washington's allies in the region to stand firm in their commitment to the U.S.-led mission in Iraq.

No Japanese soldier has been killed in combat since 1945, and casualties could affect support for Koizumi's government, whose ruling coalition faces Upper House elections in July.

HORNS OF DILEMMA

Japan's opposition was quick to blame Koizumi and urged an end to Japan's riskiest military mission since World War II.

Some 100 protesters gathered near parliament, demanding an end to the Samawa mission. Buddhist monks in yellow robes banged hand-drums next to sign saying "Don't Kill! No More War."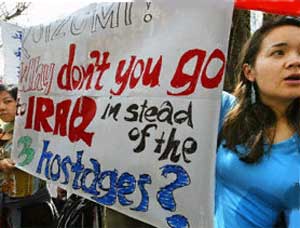 Japan's public is sharply divided over the dispatch. Critics say it violates Japan's pacifist constitution and resent what they saw as U.S. pressure to put "boots on the ground" in Iraq.
"As we've said in the past, hasn't this Iraq war contributed to an expansion of terrorism, rather than leading to its prevention?," Democratic Party leader Naoto Kan told parliament.
Supporters of the deployment have said it is time for Japan to shoulder more responsibility for global security.
"I think it's a very difficult decision, but I don't think they should pull out the troops," said Mieko Sakai, 43, who runs a job agency. "The question is, then, how to protect lives."
Tokyo residents are worried about a possible attack in the nation's capital, while in Samawa, blasts were reported again on Thursday near the Japanese soldiers' camp.
There were no reports of casualties or damage but the troops have suspended their reconstruction work outside the camp.
Financial markets were also on edge.
"The event made investors very nervous," said Yasuo Ueki, a market analyst at consultancy Poko Financial Office.
"Market players are now looking at how public opinion will be formed... and if the government mishandles the issue, that could bring down the Koizumi cabinet."
The Nikkei share average was down 1.64 percent at 11,894.63 about an hour before the close and the yen was trading at about 106.44 to the dollar after falling as low as 106.78.
Bond prices rose slightly and the yield on the 10-year government bond was down 1.5 basis point at 1.475 percent.
Today's Top News
Top World News

Koizumi in pinch over Iraq hostage crisis




Pension funds get nod to invest abroad




Consumers baulk at bank charges




No one is allowed to hurt HK stability




Government think-tank unveiled




Rice: Bush understood al-Qaeda threat