Man goes under knife for handsome guy
By Xu Xiaomin (Shanghai Star)
Updated: 2004-04-09 08:45
A 24-YEAR-old man from Northeast China's Heilongjiang Province will become Shanghai's first "man-made handsome guy" after undergoing at least seven plastic surgery treatments which will last two to three months in total.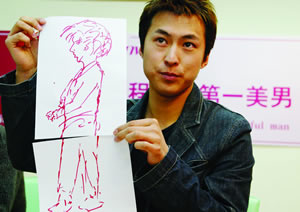 The man named Zhang Yinghua was selected from over 30 candidates in a competition named "looking for the city's first artificial handsome man" held by Shanghai Kinway Plastic & Cosmetic Surgery.
The cost of the operations, estimated to be around 300,000 yuan (US$36,300), will be shouldered by the hospital.
Zhang, 1.85 metres high, weighing 75 kilograms and stylish, is considered a very handsome man even without facial modification.
"He is really a handsome guy, look at his face and figure! I don't think he needs any plastic surgery," said a young woman from a fashion weekly newspaper.
But in the eyes of experts, Zhang's face has many shortcomings. To "polish" his face will involve at least seven operations, which will start from the second week of April according to Zhang Wei, the doctor in charge of the process.
"At least seven facial features need improvement," Doctor Zhang said.
The first is the nose which looks a little oblique to the right. Zhang said he had intended to go to another hospital for plastic surgery, but the cost of 10,000 yuan (US$1,210) was too high for him to afford.
The second is his eyes. "No matter the height and length, his eyes are not big enough," the doctor said. The aim for the eye-shape operation is to create a pair of charming eyes which are a little like mixed-blood ones.
Other features to be reworked include the forehead, which is not plump enough, the jowl, which contains too much fat, the line of the jaw, which is too square and should be cut a little, a wrinkle in the brow which is too obvious, and the teeth which should be whitened and reshaped.
Stardom dream
Among all the operations, the doctor said the nose-job would be the most difficult. The bones in the nose would have to be separated first and then shifted into the right position. To produce a pair of charming eyes would also not be an easy task.
"The standard for a man-made handsome guy is to be not only pretty, but also manly and distinctive," Dr. Zhang Wei said.
"My parents did not really agree with my decision at first. They thought I looked good enough," Zhang said. "But my dream is to be a model or an actor, so looks are important to me."
Zhang has attended singing competitions and television programme production events before. But he didn't succeed in any of these.
"If I had succeeded, I wouldn't be standing here today," he said. He concluded that part of the reason for his failure was his face, it was not "perfect" enough. "To win in the entertainment field, looks are of the same importance as ability," he said.
To realize his dream, he decided to endure the whole process of surgery, which lasts about two to three months, with some pain resulting from each operation.
"I am confident about modern medical technology. I don't think there is any risk in it," he smiled.
"Actually, most people who come for plastic surgery these days are not really ugly," Dr. Zhang said. Zhang said every month his hospital undertook about 300 plastic surgeries, only a very few were designed to correct serious deformities.
With heightened social pressures today, many young people believe the face is the first namecard which could help them to success in business, Zhang said. "But not everyone's face can be improved to an ideal look."
Ravages of age
Nevertheless, plastic surgery seems to be becoming a trend.
According to incomplete statistics, the number of men seeking plastic surgery has almost doubled over the last four years. Previously, men only accounted for 10 per cent of patients, but now, one out of five plastic surgery treatments is performed on a man.
These men can be divided into four types, according to the experts: students from movie or theatre college who take the surgery as a springboard to a rosy future; actors; those asked to have a face lift by their girlfriends; and finally men from 40 to 50 years old who wish to fight the ravages of ageing.
Hearing about the artificial handsome man project, Hu Shensheng, professor of the Sociology Department at Shanghai University, called it "very ridiculous".
He told the Shanghai Legal Daily that human beauty is not absolute thing. "Looks are not the only standard for judging whether one is handsome or not. Men should be fully confident in their looks," he said. "The real aim of the artificial handsome man competition is to generate commercial hype."
Actually, Zhang Yinghua is not the first artificial handsome man to be hyped in this way. In the past year, man-made beauties were discussed in many provinces around the country.
Last July, China's so-called "first man-made beauty", Beijing woman Hao Lulu, started a course of plastic surgery which will last for over 200 days and cost her over 300,000 yuan (US$36,300). Her name and face have appeared in the media frequently.
At the end of last year, a plastic surgery hospital in Sichuan Province selected one woman among a range of candidates and provided free surgery for her. Just a few days later, a "man-made beauty" in Jilin Province was unveiled. The 24-year-old woman, named Dong, started a plastic surgery project which will last more than a year.
Meanwhile, the No. 1 Chengdu man-made beauty, Peng, unveiled her new face, which was designed to resemble a movie star named Zhao Wei, although it actually looked more like that of another Hong Kong star, Cecilia Cheung. At the beginning of this year, the No. 1 man-made beauty in Guangzhou also headed to the operating room with great hopes.
The reason for so many man-made beauties is actually the huge potential market and equally huge profit to be made in this field, insiders said.
With the increasing use of plastic surgery, complaints have also risen. The Jiefang Daily reported that about 20 to 30 per cent of people who experienced such cosmetic surgery at Shanghai No. 9 Hospital, which is well-known for its plastic surgery, needed a second operation to correct the shortcomings of the first one.
'Risky' profit
Meanwhile, a report carried in the Beijing Daily said that about 20,000 complaints about plastic surgery were received around the country every year. During the past decade, over 200,000 faces were ruined by cosmetic surgery disasters.
During the city's first industry meeting, the Shanghai Medical Plastic Surgery Supervision Centre called for a strict licensing system in the field. During the process of supervision, the centre had found some ordinary surgeons in the city also engaging in plastic surgery.
While in some foreign countries, only those with five years of surgical experience and two to three years of anaplastic study can conduct such operations. The centre called for serious professional examinations to avoid medical accidents.

Today's Top News
Top China News

Koizumi in pinch over Iraq hostage crisis




Pension funds get nod to invest abroad




Consumers baulk at bank charges




No one is allowed to hurt HK stability




Government think-tank unveiled




Rice: Bush understood al-Qaeda threat