Iraqi militants threaten to kill Japanese hostages
(Agencies)
Updated: 2004-04-09 07:45
Iraqi militants put knives to the throats of three Japanese hostages and threatened to kill them unless Japan's troops leave the country, in a video aired on Thursday.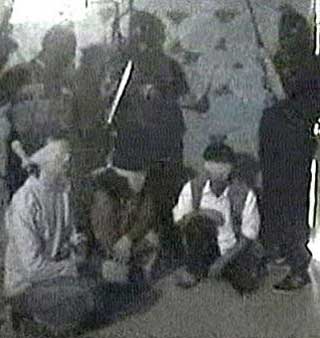 Blindfolded Japanese civilian detainees kneel in front of their captors at an undisclosed location in this image made from video released Thursday, April 8, 2004. Eight South Koreans and three Japanese were kidnapped Thursday by insurgents in Iraq, and captors armed with automatic rifles and swords threatened to burn the Japanese alive if Tokyo did not withdraw from the U.S.-led coalition. [AP]

"We tell you that three of your children have fallen prisoner in our hands and we give you two options -- withdraw your forces from our country and go home or we will burn them alive and feed them to the fighters," a statement with the video said.

"You have three days from the date of this tape's airing," said the statement by the hitherto unknown group called Saraya al-Mujahideen (Mujahideen Brigades).

Parts of the tape were shown on Arab television Al Jazeera and other parts of what appeared to be the same tape were shown on U.S.-funded Arabic television Al Hurra.

The Al Hurra tape showed abductors putting knives to the throats of the hostages.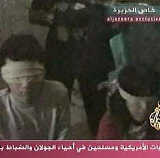 Three Japanese, including a woman, were taken hostages by Iraqi militants who demand Japan to withdraw self-defence forces in three days. [Reuters]

"Allahu Akbar (God is Greatest)," shouted the abductors. A woman hostage could be heard screaming as she covered her face.

The hostages screamed "No Koizumi!" as they were forced to denounce Japanese Prime Minister Junichiro Koizumi.

The statement said Japan had betrayed Iraqis by supporting the U.S.-led occupation.

Passports on the video named the woman as Nahoko Takato and the two men as Noriaki Imai and Soichiro Koriyama. At least one of them had a press card.

Japanese public broadcaster NHK said Takato was involved in relief work for children. Imai was doing field work on depleted uranium weapons and Koriyama was a freelance cameraman.

A spokesman at Japan's Foreign Ministry said they have seen the Al Jazeera report and were checking it.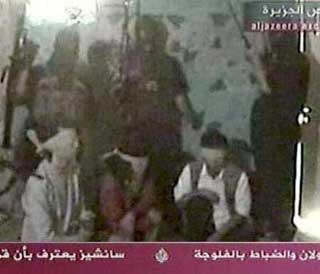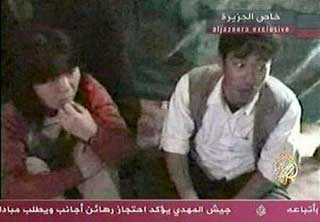 Threee Japanese, including a woman, were taken hostages by Iraqi militants who demand Japan to withdraw self-defence forces in three days. [Reuters]

The three hostages were shown kneeling with their eyes bound with white cloth and surrounded by masked men holding rifles. A later shot showed them without their bindings and talking to their captors. The walls of the room were riddled with bullets.

Nudged by the United States, Japan has sent 550 non-combat troops to the southern city of Samawa to help rebuild Iraq

It is Japan's riskiest military deployment since World War II. Critics also say it violates Japan's pacifist constitution.

No Japanese soldier has fired a shot in action or been killed in combat since 1945 and casualties could undermine support for Koizumi's government ahead of Upper House elections in July.
Today's Top News
Top World News

Koizumi in pinch over Iraq hostage crisis




Pension funds get nod to invest abroad




Consumers baulk at bank charges




No one is allowed to hurt HK stability




Government think-tank unveiled




Rice: Bush understood al-Qaeda threat