Nonstop trains to hit the road on April 18
By Shan Juan (chinadaily.com.cn)
Updated: 2004-04-08 17:08
China's railway network will start non-stop passenger train service on April 18 when the railway system gears up the speed for the 5th times.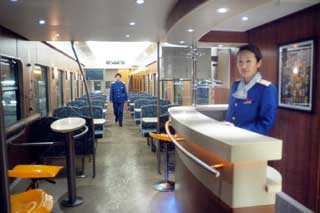 The nonstop trains will have bars for passengers to relax. [newsphoto]

The new express train, to be marked with Z on the schedule, will run from the departure station to the destination without stop en route.

Hu Yadong, vice-minister of railways, said the nation will then have 7,700 kilometers of railways that could allow trains to run at a speed of 160 kilometers per hour, including the Beijing-Shanghai and Beijing-Harbin railways.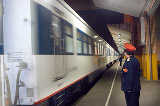 A nonstop train arrives in Beijing on a trial run. [newsphoto]

A total of 19 pairs of Z-line trains will be ready for service on April 18. And passengers would save much time by riding Z-line trains that head all the way to the destination without a single stop.

Railway authorities promise quality service will be another feature of Z-line trains. Star lines and trains will be fostered.

Tickets of Z-line trains can be booked and bought respectively 180 and 20 days in advance. Customers' ticket orders go invalid if they do not pay 7 days before the departure.
Today's Top News
Top China News

Consumers baulk at bank charges for debit cards




No one is allowed to hurt HK stability




Government think-tanks unveiled




Japan urged to show sincerity




Too few qualified healthcare workers




Rice: Bush understood al-Qaeda threat