Yangtze tanker explosion kills 2, injures 6
(Xinhua)
Updated: 2004-04-08 13:49
At least two people were killed and six others injured when a tanker carrying 1,000 tons of diesel oil exploded and then sank in the waters of the Yangtze River near Yangluo of Wuhan, provincial capital of Hubei Province, Wednesday afternoon.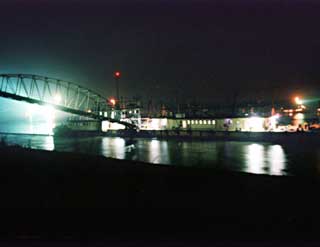 The Yangtze section where the explosion occurred. [newsphoto]

Ji Zhaoyuan, the 55-year-old owner of the tanker, said there were nine people at the rear part of the tanker when the workers were unloading oil onto the landing stage via a pipeline.

"I was thrown into the water following a sudden explosion and half of the rear part was engulfed by fire," Ji recalled later.

One people died in the explosion is carried out to a vehicle on April 7, 2004. [newsphoto]

Ji's wife, aged 52, and one of his grandson, aged half a year old, were among the dead. His other grandson aged more than one year old remains missing.

All the injured are hospitalized.

Measures have been taken to prevent the oil spill from the shipwreck to pollute large area of water in the Yangtze and they are proved effective, said local sources.

Cause of the accident is under investigation.
Today's Top News
Top China News

Nation steps up efforts to contain HIV/AIDS




35 coalition troops, 170 Iraqis die in 3 days




Lien refiles lawsuit for new election




Koizumi vows to continue shrine visits




Beijing forecasts: Another year of drought




Call for cosmic cooperation with Europeans