Lien refiles lawsuit for new election
(Agencies)
Updated: 2004-04-08 10:48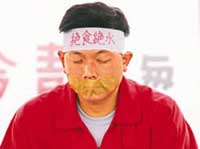 A student refuses to eat and drink to protest the March 20 election. [people.com.cn]

Taiwan's opposition Nationalist Party (Kuomintang) re-submitted a lawsuit seeking to nullify last month's hotly disputed election, just hours after withdrawing the document, lawyers said on Thursday.

Chen Shui-bian defeated Nationalist leader Lien Chan by just 30,000 votes out of more than 13 million cast after an election-eve assassination attempt on Chen that Lien says swung the March 20 poll.

Lien's lawyers had filed two lawsuits with the High Court -- one to invalidate Chen's victory and the other to invalidate the election.

They withdrew the second suit on Wednesday, saying they wanted to allow a recount being negotiated under the first suit to take place first.

However, the Nationalists refiled the election nullification suit on Wednesday night and removed the recount clause.

"We don't want to see two recounts that may produce different outcomes so we decided to revise our election invalidation suit saying a separate recount is not necessary," said Huang Shan-shan, a lawyer representing Lien.

Today's Top News
Top China News

Nation steps up efforts to contain HIV/AIDS




35 coalition troops, 170 Iraqis die in 3 days




Lien refiles lawsuit for new election




Koizumi vows to continue shrine visits




Beijing forecasts: Another year of drought




Call for cosmic cooperation with Europeans