Western leaders absent as Rwanda recalls genocide
(Agencies)
Updated: 2004-04-08 08:43
With Western leaders conspicuous by their absence, Rwanda marked the 10th anniversary of its genocide on Wednesday still bewildered and angry at the world's failure to stop one of the 20th century's worst crimes.
Lingering rancor saw a French minister cut short his trip after Rwanda's president publicly renewed accusations that Paris had been complicit in training and arming the killers.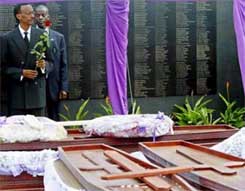 Rwandan President Paul Kagame holds a rose as he attends the burial ceremony for people killed during Rwanda's 1994 genocide, their names written on the black wall behind him, April 7, 2004 at Gisozi memorial in Kigali. [Reuters]

"Women and girls were gang-raped, tortured and maimed for life, if not murdered. The victims were forced to kill their kin or dig their own graves before they were buried alive," President Paul Kagame told 28,000 mourners gathered at a stadium in Kigali.

"We will see each other again in heaven," a choir sang at the memorial site in the capital where a crowd of barefoot Rwandans in tattered clothes watched from a hilltop as African presidents arrived in gleaming four-wheel-drive vehicles.

Kagame singled France out for stinging criticism in his speech at the stadium, reiterating his allegation that Paris provided weapons to those responsible for the 100 days of bloodshed.

"As for the French, their role in what happened in Rwanda is self-evident," Kagame said. "They knowingly trained and armed government soldiers and militia who were going to commit genocide, and they knew they would commit a genocide."

France said it had cut short a visit by its junior foreign minister, Renaud Muselier, saying serious allegations "contrary to the truth" had been made against it.

In Geneva, U.N. Secretary General Kofi Annan said the risk of genocide remained frighteningly real in parts of the world and that Rwanda-style ethnic massacres may be in the making in Sudan. He said international military force could be needed to stop it.

Annan sounded the alarm in a speech on the 10th anniversary of the Rwanda genocide in which 800,000 Tutsis and moderate Hutus were massacred by Hutu extremists.

He left no doubt he feared something similar might be under way in west Sudan, where U.N. officials say "ethnic cleansing" is being carried out by government-backed Arab militias. Khartoum denies any role in unlawful killings in the region.

Annan's initiative on Sudan stood in stark contrast to the low-key approach adopted by the international community on Rwanda in the months leading up the genocide, a failure seen by many Rwandans as a disastrous abdication of responsibility.

U.S. President Bush said in a statement that the United States supports the people of Rwanda as they "commemorate this horrific chapter in history."

Bush urged all states to work with Rwanda and the International Criminal Tribunal for Rwanda to bring to justice those responsible for the genocide.

ETERNAL FLAME

Kagame lit an eternal flame at the main memorial site as workers buried 15 coffins in a mass grave nearby and later led Rwandans in observing two minutes of silence for the victims.

Bereaved survivors later sobbed in shock at hearing witnesses tell the stadium audience about gruesome killings they had seen.

For many Rwandans, most of whom scratch out a living as peasant farmers in one of the world's poorest countries, the trauma is far from healed. Many women were infected with AIDS during mass rapes, and thousands of children were orphaned.

"It will take eternity for the detestable and guilty indifference of the international community to be forgotten," said Louis Michel, foreign minister of former colonial power Belgium, which lost 10 peacekeeping troops to Hutu killers on April 7, prompting Brussels to withdraw its other soldiers.

April 7 has been designated by the United Nations as an "International Day of Reflection" for Rwanda, and the African country had asked other nations also to hold memorial silences.

FEW MEMORIALS OUTSIDE RWANDA

But apart from ceremonies at U.N. offices in major U.N. centers, such as Nairobi and Geneva, and at Rwandan embassies, there was no sign the gesture was widely observed.

The tiny central African country was plunged into a frenzy of ethnic butchery that saw an average of 8,000 people killed each day in the months after a plane carrying President Juvenal Habyarimana was shot down over Kigali on April 6, 1994.

Scholars concluded that the killers -- mostly civilians spurred on by hate propaganda -- did their work five times faster than the gas chambers used by the Nazis in World War II.

Leaders including Kenyan President Mwai Kibaki, Ugandan President Yoweri Museveni, South African President Thabo Mbeki, Ethiopian Prime Minister Meles Zenawi and Belgian Prime Minister Guy Verhofstadt attended Wednesday's ceremony.
Today's Top News
Top World News

Nation steps up efforts to contain HIV/AIDS




Taiwan election lawsuit put on hold




Beijing forecasts: Another year of drought




Cheney visit to foster relations




Judges slated for stricter scrutiny




Call for cosmic cooperation with Europeans