35 coalition troops, 170 Iraqis die in 3 days
(Agencies)
Updated: 2004-04-08 08:25
US-led forces battled Sunni guerrillas in two cities Wednesday and grappled with a radical Shi'ite uprising in a two-front war that has killed at least 35 coalition soldiers and 170 Iraqis in three days.
The US military confirmed Wednesday that a dozen Marines had been killed the previous day in a seven-hour battle in the Sunni Muslim city of Ramadi, 110 kilometres west of Baghdad.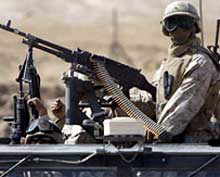 U.S. Marines patrol outside Fallujah Wednesday. [AP]

And coalition sources said a South African working for a British security company had been killed in the southern Iraqi city of Kut when Shi'ite radicals attacked the house he was living in with other contractors.

Another US soldier from the 1st Armored Division was killed when his vehicle was attacked with a rocket-propelled grenade outside a police station in Baghdad Wednesday, the US military said in a statement. The death raises to 15 the number of US and coalition troops killed in the past two days, the statement said.

The Ramadi incident was one of the costliest battles for US forces in Iraq since the war that toppled Saddam Hussein began a year ago.

"Eleven Marines died while engaged with the anti-Iraqi forces for more than seven hours; one died from wounds suffered during the fire fight,'' the US military said in a statement.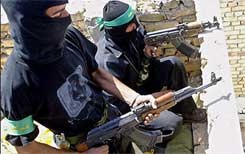 Masked members of Iraqi Shiite radical leader Moqtada al-Sadr's Army of Mehdi militia guard al-Sadr's office in Baghdad's Shiite neighborhood of Sadr City. [AFP]


Another US soldier was killed in fighting north of Baghdad on Tuesday evening, bringing to 442 the number of US troops killed in action in Iraq since the invasion last year.

Since Sunday, clashes across Iraq have killed 33 US troops, a Ukrainian soldier and a Salvadoran soldier.

The US military launched a major operation this week to secure Ramadi and the nearby city of Falluja, where four US private security guards were killed last week and their bodies set ablaze and mutilated by a jubilant crowd of Iraqis.

Fierce fighting raged in both cities Wednesday.

In Ramadi a column of black smoke rose from the city centre and gunfire and blasts echoed across the city. Streets appeared deserted except for masked guerrillas with AK-47 assault rifles and rocket-propelled grenade launchers. Mosques broadcast calls for a holy war against the American troops.

In Falluja, dozens of Iraqis were killed -- doctors said at least 36 were killed on Tuesday, and locals said the toll was much higher as many people were unable to reach hospitals. One mosque was being used as a makeshift morgue.

Doctors said 25 of the dead were in a house destroyed by a blast. Locals said it had been hit by a missile fired by a US helicopter. The US military said it had no information on the incident.

"There had been enemy resistance and Marines have repeatedly repelled that resistance as well as conducting raids against key targets in the heart of Falluja city,'' Brigadier General Mark Kimmitt, deputy director of operations for the US army in Iraq, told a news conference in Baghdad.

North of Baghdad, a US helicopter landed after being hit by gunfire. The US army said there were no casualties.

Sadr: expel US occupiers

Elsewhere in Iraq, followers of the Shi'ite cleric Moqtada al-Sadr have fought running battles with foreign troops in the southern cities of Nassiriya, Amara, Kut and Kerbala in an uprising that has claimed more than 130 lives since Sunday.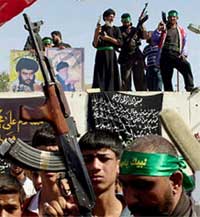 Supporters of Shiite cleric Muqtada al-Sadr demonstrate in Baghdad's Sadr City neighborhood April 7, 2004. [AP]

An aide to Sadr told a news conference that some US soldiers had been captured in the fighting. "Some tribes have captured some occupation forces on the streets,'' Qays al-Khazali told a news conference in the Shi'ite holy city of Najaf.

Kimmitt said US-led forces would destroy Sadr's Mehdi Army militia and that Sadr would be arrested. "In the central and southern regions of Iraq the coalition and Iraqi security forces are conducting operations to destroy the Mehdi Army,'' he said.

The uprising by Shi'ites raised fears in Washington that US forces, already battling a Sunni insurgency, faced a Viet Nam-style quagmire as they try to pacify the country ahead of the planned transfer of sovereignty to Iraqis on June 30.

The head of Sadr's office in Kerbala was killed in fighting with Polish troops in the city, local police spokesman Rahman Mashawi said.

Ukrainian troops pulled out of Kut Wednesday after clashes there in recent days and regrouped in their base camp, the defence ministry in Kiev said. It said the move was "on the request of US representatives in the civil administration and with the objective to save soldiers' lives."

Bulgaria summoned ambassadors of the United States, Britain, Spain and Poland to the foreign ministry Wednesday asking for back-up for 450 Bulgarian soldiers stationed in Kerbala.

The base has come under attack several times by Shi'ite militiamen, and a Bulgarian civilian truck driver was killed in an attack on a convoy in southern Iraq on Tuesday.

Sadr has appealed to all Iraqis, whatever their religion, to help expel the occupiers. "This insurrection shows that the Iraqi people are not satisfied with the occupation and they will not accept oppression," he said in a statement on Tuesday.

Iraqi Foreign Minister Hoshiyar Zebari, in London for talks with British Prime Minister Tony Blair, said thousands more foreign troops might be needed to maintain order.

US President George W. Bush vowed the campaign by Sadr's supporters would not derail Washington's plans. "We will pass sovereignty on June 30,'' he told a campaign rally in Arkansas on Tuesday. "We're not going to be intimidated by thugs and assassins."

A US opinion poll released on Monday showed support for Bush's handling of Iraq at a new low of 40 per cent, with 44 per cent wanting US troops withdrawn.

In Hawija, north of Baghdad, eight Iraqis were killed in clashes between US troops and protesters who rallied in a show of support for guerrillas in Falluja and Ramadi. The US army said three soldiers were wounded in the clashes.
Today's Top News
Top World News

Nation steps up efforts to contain HIV/AIDS




35 coalition troops, 170 Iraqis die in 3 days




Taiwan election lawsuit put on hold




Koizumi vows to continue shrine visits




Beijing forecasts: Another year of drought




Call for cosmic cooperation with Europeans