Russian scientist jailed for 15 years for spying
(Agencies)
Updated: 2004-04-07 15:15
A judge jailed a Russian scientist for 15 years on Wednesday for spying for the West, Russian news agencies said, in a case denounced by rights activists and his lawyers as unfair and rigged.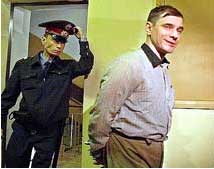 A Moscow policeman escorts Sutyagin to a courtroom in September 2002. [AP]

Igor Sutyagin, a nuclear weapons expert, was convicted of treason by a jury on Monday after being found guilty of passing classified military information to a British firm alleged to be a front for the U.S. Central Intelligence Agency.

Sutyagin, denying spying, had said he wrote an analysis based on information that was in the public domain.

He has 10 days to appeal against the sentence in the Supreme Court. Interfax news agency said the court had ruled his jail term would run from October 1999 when he was arrested.

The prosecution had sought a 17-year sentence for 39-year-old Sutyagin, close to the maximum for treason.

Trial by jury was introduced in post-Soviet Russia only two years ago and many rights and legal experts doubt it operates freely as President Vladimir Putin embarks on a second term.

Sutyagin's defense said on Tuesday that the 12-member jury had come under pressure and had been badly directed by the judge who had ignored the key defense argument -- that information disclosed by Sutyagin was publicly available.

All 12 jurors found him guilty of passing on classified information on fighter aircraft and nuclear-powered submarines to the firm, Alternative Futures, alleged to be a CIA front.

Human Rights Watch said on Tuesday that Russia's FSB domestic intelligence agency had pressed hard for Sutyagin's conviction after the acquittal last December of scientist Valentin Danilov.

Danilov was cleared of spying for China, an outcome that prompted many senior officials in the FSB to question the competence of juries to handle such cases.
Today's Top News
Top World News

Interpretations of HK Basic Law 'timely, necessary'




Court: Koizumi war shrine visit illegal




Cheney's China visit to centre on Taiwan




Red light for "feast on a beauty's body"




For sale: coastal islands




Survey shows high schoolers sexually active