Koizumi to continue shrine visit despite court ruling
(Xinhua)
Updated: 2004-04-07 13:23
Japanese Prime Minister Junichiro Koizumi said Wednesday he would continue visiting Yasukuni Shrine despite a court ruling earlier in the day that defined his visits there as unconstitutional, Kyodo News reported.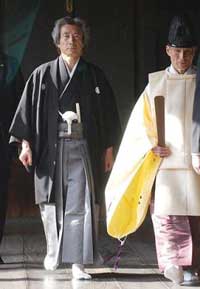 Dressed in the long pleated trousers of a traditional, formal Japanese costume, Japanese Prime Minister Junichiro Koizumi, left, follows the chief Shinto priest Tadashi Yuzawa as he visits Yasukuni Shrine honoring Japan's war dead, in Tokyo to pay homage in this Jan. 1, 2004 file photo. [Reuters]

The premier was quoted by Kyodo as saying that he thought the ruling was "irrational" and "does not understand" why his visits there, conducted every year since he took office in April 2001, were unconstitutional.

A Japanese district court on Wednesday ruled that Prime Minister Junichiro Koizumi's visits to a controversial war shrine violated the constitution.

The decision was handed down in a suit filed by 211 plaintiffs in the Kyushu region in west Japan who claimed the premier's visit to Yasukuni Shrine on Aug. 13, 2001, violated the constitutional separation of state and religion.

The plaintiffs had sought 21.1 million yen - or 100,000 yen (about US$940) each - in damages from the government, citing the psychological suffering they experienced as a result of the premier's visit.

But the Fukuoka District Court rejected their demands for compensation, ruling it cannot say the visit violated their freedom of conscience, Kyodo said.

Article 20 of Japan's Constitution stipulates the state and its organizations shall refrain from religious education or any other religious activities.

The shrine honors 14 convicted World War II Class-A war criminals along with the war dead. Koizumi has visited Yasukuni Shrine every year since August 2001. His latest visit was on Jan. 1 this year.

Similar lawsuits have been filed at five other district courts across Japan - Tokyo, Chiba, Naha, Osaka and Matsuyama.
Today's Top News
Top World News

Interpretations of HK Basic Law 'timely, necessary'




Court: Koizumi war shrine visit illegal




Cheney's China visit to centre on Taiwan




Red light for "feast on a beauty's body"




For sale: coastal islands




Survey shows high schoolers sexually active