Kerry questions Bush on Iraq deadline
(Agencies)
Updated: 2004-04-07 09:24
U.S. Democrat presidential candidate John Kerry suggested Tuesday that President Bush may have set the June 30 deadline for turning over control of Iraq to interim government for political reasons.
"I think the June 30 deadline is a fiction and they never should have set an arbitrary deadline, which almost clearly has been affected by the election schedule in the United States of America," Kerry told National Public Radio in an interview to be broadcast Wednesday.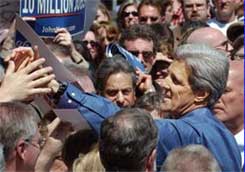 U.S. Democratic presidential candidate Sen. John Kerry, shakes hands with people in the crowd following a campaign rally at Sawyer Point Park, in Cincinnati, Ohio, April 6, 2004. [AP]

Kerry later said he hopes the date has nothing to do with the Nov. 2 presidential election.

Asked what he meant in his statement to NPR, Kerry told reporters: "I mean that I think they wanted to get the troops out and get the transfer out of the way as fast as possible without regard to the stability of Iraq. The test ought to be the stability of Iraq, not an arbitrary date. ... It should not be related to the election."

In the radio interview, Kerry also said it was not wise for U.S. officials to try to arrest Muqtada al-Sadr, an anti-American cleric, without taking other steps to control violence in Iraq. U.S. officials announced an arrest warrant against al-Sadr on Monday, the same day that Bush reaffirmed his commitment to the June 30 deadline.

Bush also said al-Sadr is working against democracy in Iraq, but Kerry suggested Tuesday that arresting him would work against efforts to build stability in the country.

U.S. authorities have launched a crackdown on the radical Shiite cleric and his militia after weekend uprisings in Baghdad and cities and towns to the south took a heavy toll in both American and Iraqi lives.

"If all we do is make war against the Iraqi people and continue an American occupation fundamentally without a clarity to who and how sovereignty is being turned over, we have a very serious problem from the long run here and I think this administration is just walking dead center down into that trap," Kerry said.

"As I have said since day one, what you need is to minimize the perception and reality of an American occupation."

Bush campaign spokesman Steve Schmidt said Kerry was the one playing politics.

"This is another example of John Kerry playing politics with the war on terror," Schmidt said. "The president has made clear that he will not cut and run from Iraq."

In the Republican stronghold of Cincinnati, Kerry touted his pledge to create 10 million new jobs if elected. His rally was interrupted by about a dozen people near the front of the crowd who shouted and clapped flip-flops above their heads ¡ª a reference to Republican claims that Kerry has changed his position on Iraq, taxes and other issues.

As his supporters shouted at the protesters to go home, Kerry said they were "rude" and sought to turn the flip-flopper label back onto Bush. He said Bush had broken promises to create jobs and fund education and had changed his position on whether national security adviser Condoleezza Rice should testify before the Sept. 11 commission.

"I can run through the long list of broken promises of this president," Kerry said. "I mean, you want to talk about flips and flops."

Rep. Rob Portman, R-Ohio, meanwhile, challenged Kerry to submit his budget proposals to the Congressional Budget Office and the Joint Committee on Taxation, where they would undergo the same analysis as ones offered by Bush.

Portman told reporters during a conference call that Kerry's spending plans would require more money than would become available by raising taxes on the wealthy, as Kerry has proposed. He also criticized Kerry for not providing specific details about which taxes he would raise or which programs he would cut to trim the deficit.

Kerry spokesman Chad Clanton criticized Portman for voting for Bush spending plans that have increased the federal deficit.
Today's Top News
Top World News

Interpretations of HK Basic Law 'timely, necessary'




Leaders to talk Taiwan question with Cheney




Aviation sector to open wider




Red light for "feast on a beauty's body"




For sale: coastal islands




Panda cubs by the dozen coming soon