Roddick likely to face Swede at Davis Cup
(Agencies)
Updated: 2004-04-06 11:08
Andy Roddick is the ATP Tour's leader in matches won this year, is coming off a title at the Nasdaq-100 Open and has climbed back to the world's No. 2 ranking.
Imagine how much better off he'd be if he could just steer clear of the Swedes.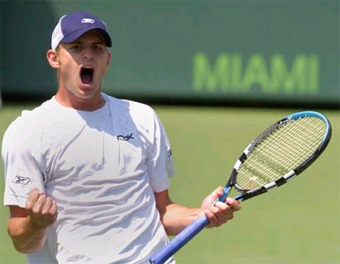 Andy Roddick celebrates after scoring a point against Guillermo Coria of Argentina during the final match Sunday, April 4, 2004, at the Nasdaq-100 Open in Key Biscayne, Fla. Coria retired because of back spasms trailing in the fourth set. [AP]

Roddick has lost only five of 31 matches this year, but two of those losses were straight-setters against Thomas Enqvist and Jonas Bjorkman. And he'll likely face one of those two players Friday when the U.S. team and Sweden open their best-of-5 Davis Cup quarterfinal matchup.

"It's a huge goal of mine to help our team win Davis Cup," Roddick said Sunday after beating Argentina's Guillermo Coria in the Nasdaq-100 final. "I mean, I've been a fan ever since I went to a tie when I was younger. So it's definitely a priority in my tennis life, that's for sure."

U.S. captain Patrick McEnroe excused Roddick from the team's practice and media session on Monday, saying it was a well-earned day off following the grind of the Nasdaq-100. Roddick will practice Tuesday.

"He's fine. He's obviously just tired," McEnroe said.

Roddick will be one of the big keys if the Americans are to claim their first Davis Cup title since 1995 and end the nation's longest drought in nearly seven decades. He and Mardy Fish will play singles against Sweden; Bob and Mike Bryan will be the doubles representatives for the American side.

"The fact they have one of the better players in the world I don't think scares us that much," Swedish captain Mats Wilander said. "In Davis Cup, it's just one match."

Enqvist is 2-1 all-time against Roddick, including a 7-6, 6-3 win at the Kroger St. Jude tournament in Memphis in late February. Roddick was hampered by a sore back in that match, but refused afterward to blame the loss on his lack of mobility.

Roddick has beaten Bjorkman in three of five meetings, including a 6-4, 3-6, 6-3 win last week in the third round of the Nasdaq-100 Open. Bjorkman beat Roddick in the second-round of the Qatar Open 6-3, 6-4 three months ago.

"You have to get that 10,000 mph serve back," Enqvist said. "If you do that, then you have a chance."

Roddick's serve doesn't quite get that fast, although it's still the most vaunted on tour. The 150 mph blast he uncorked against Austria's Stefan Koubek in the first round of Davis Cup play earlier this year is the fastest recorded in tennis history.

McEnroe said Monday he hopes this Davis Cup ¡ª being played about 10 miles from Roddick's Boca Raton home ¡ª gets Roddick as excited as he was for the tie against the Austrians.

"We're extremely lucky that he's as committed as he is to Davis Cup," McEnroe said. "He gets very, very excited about playing. He gets along with all of us very well. And he loves the team atmosphere and the team format. He was born with that, or certainly his parents instilled that in him when he was a kid."

Wilander, who retired three years before Roddick's pro career began in 1999, said he has a foolproof way of ensuring he could handle a matchup with the hard-serving American: "I made sure I was born in 1964."
Today's Top News
Top Sports News

Oil finds of 280m tons to ease national thirst




Lien Chan files suit for new poll




Constitution helps man fight for home




Troublemakers 'try to plunge HK into turmoil'




Japan and EU seek roles in chip talk




Judge jailed for 'lenient sentence' of rapist