IKEA founder 'richer than Gates'
(Agencies)
Updated: 2004-04-05 10:34
Ingvar Kamprad, the Swedish businessman who founded furniture retailer IKEA, has overtaken Microsoft's Bill Gates as the world's richest man, according to Swedish business weekly Veckans Affarer.
In its April 5 edition covering Sweden's richest 100 people, the magazine says Kamprad, 77, has a personal fortune of 400 billion crowns (US$53 billion).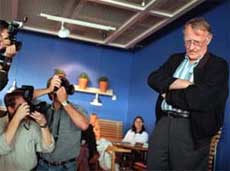 Kamprad, seen in this 1998 file photo, now lives in Switzerland. [AFP]

That is substantially above the US$46.6 billion allocated to Gates by U.S. magazine Forbes in its latest list of the world's richest people, published in late February.

On that list, Gates was followed by U.S. investor Warren Buffett on US$42.9 billion and Karl Albrecht, founder of Germany's Aldi supermarket chain, with US$23 billion.

Kamprad was ranked only 13th on the Forbes list, with a net worth of US$18.5 billion.

Kamprad, who is known for such frugal habits as flying economy class and driving an old Volvo, lives in Switzerland.

He no longer takes part in the daily running of IKEA, which has more than 180 stores in 31 countries.

But he has kept ownership of the company in the family. His three sons work at IKEA, with one expected to succeed him eventually.

According to a Swedish television report ahead of the magazine's publication, the main reason Kamprad has overtaken Gates is the dollar's slide against other currencies.

Forbes magazine says Kamprad derives his wealth not just from IKEA's stores but also from ownership of the land where they are sited.
Today's Top News
Top World News

Tomb price is up and up: Let's squeeze the dead




Taiwan's Lien to demand new election poll




President calls for sustainable development




State of emergency law to set basic rights




HK: Calls for reason amid strife concerns




Four reasons why China will not revalue RMB