9/11 panel head: findings will surprise
(Agencies)
Updated: 2004-04-05 09:24
The chairman of the commission looking into the September 11 attacks said Sunday that some of its findings has surprised him and will surprise the public as well.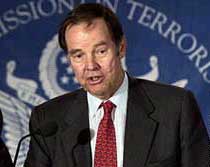 Thomas H. Kean [AP]

Thomas H. Kean also said he expects the commission's final report to be published before the November elections, possibly as early as July, even though the White House must clear it for intelligence problems.

The commission's deadline for submitting its report is July 26, extended from May 27 after complaints that the White House was delaying the turnover of necessary materials.

Kean, a former Republican governor of New Jersey, said he expects no similar foot-dragging as the White House vets the report for security lapses.

"Nobody has any interest in having the report sitting around Washington during the election period and pieces of it leaking out. Nobody has any interest in this thing coming out September or October, in the middle of the election," Kean said.

"So I think it is in the White House's interest, our interest, everybody's interest to get this out in July. And I believe they will."

When it is published, he said, both its findings and its recommendations for preventive action will draw attention.

"I've been surprised by some of what we've found, and so, I think, (the public) will, yes," Kean said on NBC's "Meet the Press."

"We will have things in our report on two ends: first the report itself, second the recommendations. We've got some very serious recommendations to make, and I think they'll be something of great value to the American people and also hopefully will make the country safer."
Today's Top News
Top World News

State of emergency law to set basic rights




HK: Calls for reason amid strife concerns




Four reasons why China will not revalue RMB




Bird flu requires tight watch




Iraqi anti-US protests turn violent, 30 killed




Corruption haunts Wenzhou high-rise project