At least 14 Iraqis killed in protest
(Agencies)
Updated: 2004-04-04 21:17
Gunmen opened fire on the Spanish garrison in the holy city of Najaf on Sunday during a huge demonstration by followers of an anti-American Shiite Muslim cleric. At least 14 Iraqis died, including two soldiers, and 130 were wounded.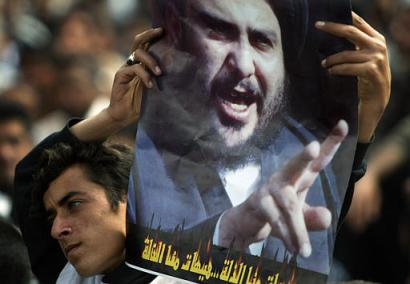 A demonstrator holds a poster of Shiite leader Muqtada al-Sadr during an anti-American protest in Baghdad, Iraq, Sunday April 4, 2004. In the southern city of Najaf, gunfire rang and at least four Iraqis, including two soldiers, were killed on Sunday during a protest outside a Spanish military garrison, unidentified witnesses and a hospital worker said. At least 30 people were injured. [AP]

Two U.S. Marines died in violence in Anbar province bringing to 600 the number of Americans killed in the war.

Anbar is an enormous stretch of land reaching to the Jordanian and Syrian borders west of Baghdad that includes Fallujah, a city where four American civilians were slain on Wednesday.

North of the capital, a bomb killed three members of the Iraqi security forces.

Later in Baghdad gunfire was heard in the center of the capital during a similar protest called by backers of the charismatic young cleric, Muqtada al-Sadr. There was no immediate word on casualties.

In Najaf, the shooting broke out after thousands of al-Sadr supporters gathered outside the Spanish garrison.

An official at Najaf General Hospital, Alaa Murtada, said seven bodies were brought to that facility. He said the hospital treated at least 90 people.

Witnesses saw four bodies at al-Zahraa Hospital and nurse Saad Abdel-Hussein said at least 30 people were injured, some seriously.

Three bodies and 10 injured people were brought to Sadr Educational Hospital in Najaf, said doctor Ra'ad al-Hadrawi.

The slain Iraqi soldiers were inside the Spanish base, according to witnesses.

A spokesman for the Spanish headquarters in nearby Diwaniyah, Commander Carlos Herradon, said attackers opened fire about noon at the Najaf garrison. Spanish soldiers fired back, and assailants later regrouped in three clusters outside the base. Shooting continued into the afternoon, he said.

Herradon said he had no figures on the number of dead and wounded.

The crowd was protesting the reported detention of an aide to al-Sadr, the 30-year-old cleric opposed to the U.S.-led occupation of Iraq.

Five thousand people marched to the Spanish garrison in the holy city of Najaf after hearing that Mustafa al-Yacoubi, a senior al-Sadr aide, had been detained.

Spanish troops in the area have said they had no information on al-Yacoubi's reported detention and said they did not take part in any such operation.

In central Baghdad's Firdaus Square, hundreds of al-Sadr supporters rallied to protest al-Yaqoubi's reported arrest.

Al-Sadr's office in Baghdad issued a statement later Sunday, calling off street protests and saying the cleric would stage a sit-in at a mosque in the city of Kufa, which is near Najaf, where he has been delivering fiery weekly sermons for months.

About 5,000 members of al-Sadr's self-styled militia, the al-Mahdi Army, paraded in Sadr City, a mainly Shiite district in eastern Baghdad, on Saturday.

Al-Sadr's weekly newspaper was shut by U.S. officials on March 28, prompting an angry response from his supporters.

Two U.S. Marines, both assigned to the 1st Marine Division, were killed as a result of separate "enemy action" in Anbar province on Saturday, the military said in a statement. One died the same day; the other died Sunday. The statement provided no other details.

A bomb exploded Sunday near a checkpoint in Samarra, about 60 miles north of Baghdad, that was manned by Iraqi Civil Defense Corps personnel, killing three and wounding one, workers at Samarra General Hospital said.

In the city of Baqouba, 30 miles northeast of Baghdad, a bomb exploded Sunday in the al-Rasool al-Adham Shiite mosque, damaging part of the building, but causing no casualties, said the mosque's caretaker Haider Yassin.

In southern Iraq on Sunday, rebels attacked an oil pipeline, rupturing it and setting the oil on fire, said Jamal Khalid, an official with the Southern Oil Company.

Firefighters were battling the blaze and expected to put it out within a few hours, he said. The fire will not affect oil exports, he added.

The pipeline links the southern city of Basra with the Persian Gulf port of Faw. Rebels have repeatedly attacked oil pipelines in Iraq.
Today's Top News
Top World News

State of emergency law to set basic rights




Bird flu requires tight watch





Iraqi anti-US protests turn violent, 30 killed




Corruption surrounds Wenzhou project




Job hunt an uphill battle for female graduates




Alstom confident in super rail tender